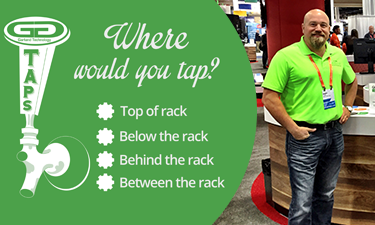 Is a perfect ice-breaker question when you are exhibiting at CiscoLive! Las Vegas. In fact for those of you that joined Chris Bihary's presentation, "Find Your Blind Spots," in the Cisco Security Partner Village, you'll recall our goal was for you to go home with two facts:
Where to TAP it

How to keep it [network] up
I am always surprised at how many network professionals still are not aware that network TAPs are the best practice for 100% network uptime, visiblity and access. At least 50% of the attendees at Chris' presentation were still using SPAN/Mirror ports when deploying network monitoring tools and not utilizing Bypass TAPs for their Cisco ASA/FirePOWER security tools.
Let me be blunt and say, "This is just crazy, what are you thinking?"
And here's a few reasons why…
Cisco Security Partner Village
This year at CiscoLive! we were invited to exhibit in the exclusive Cisco Security Partner Village. It was an intimate setting and provided the opportunity for our CEO/Co-Founder Chris Bihary to present on stage "Find Your Blind Spots," a short learning session on our lead in question, "Where would you TAP?"
Here are the cliffnotes on Where and Why you should TAP EVERYTHING:

Where to TAP?
Inline Security: TAP before and after traffic enters and exits your ASA/FirePOWER with a Bypass TAP. Allowing you to follow best practices to manage the lifecycle of an inline device(s), plus you can do packet capture for historical root cause analysis and change verification (see packets before and after).
Out-of-Band Security/Network Monitoring:

TAP everywhere to guarantee 100% of packets get to your security or monitoring solutions. Tools needs to see 100% of the packets on the network to protect and insure performance.
How to Keep It [network] Up?
Bypass TAPs have a built in fail safe that your ASA/FirePOWER does not have. Meaning, TAP the link once, and NEVER, EVER have downtime again for troubleshooting, updates and maintenance.
Fun Times at CiscoLive! USA
Now, here's the fun part! Check out our post-show video, 'Still TAP'n' CiscoLive!
And then view and tag yourself in our Facebook photo album.



Dig a Little Deeper
Cisco security solutions combined with Garland's network TAPs and packet brokers provide a tested and turnkey solution for any network environment. To learn more, view our joint solutions.
Now, are you one of the 50% that are still using SPAN ports? Then please download our TAP vs. SPAN white paper, written by security, infosec expert Tim O'Neill - the "Oldcommguy™"