Expecting a PDF?
We created this solution brief as a web page for better mobile optimization and accessibility. Remember, you can bookmark this page for future reading, save it to the reading list on your mobile device, or print a hard copy. If you'd still like a PDF version of this use case, you can download it here:
Bringing A Proactive and Responsive Approach to Unseen Network Threats
With the combined growth of network-driven business demands and the evolving complexity of cyber threats, organizations require network-level threat hunting to defend their business initiatives. When moving critical data across the network, they are often left open to unseen hackers or anomalies in blind spots without the proper range of security tools.

Bricata and Garland have teamed up to provide 100% visibility with a proactive approach to threats. Distributing data across increased capacity demands, the solution defends against network threats with signature inspection, anomaly detection, and AI-based malware conviction. The solution exposes alerts and malicious activities with complete context, providing traffic metadata all the way down to PCAP, increasing productivity, reducing time to containment, and minimizing operational costs.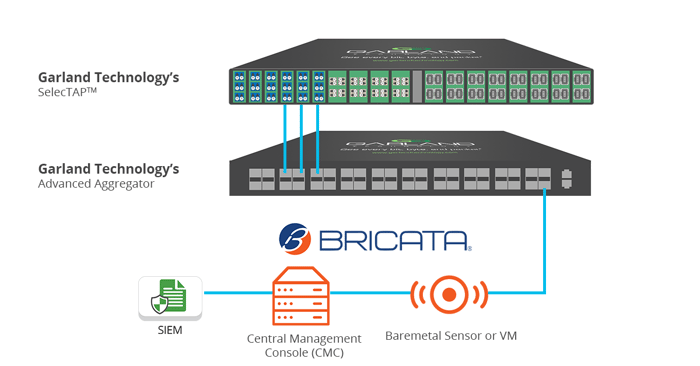 1. Garland's high-density SelectTAP provides 100% packet acquisition where packets are recorded.
2. The mirrored packet-level traffic is delivered to the Garland Technology PacketMAXTM Advanced Aggregator, where the data is load-balanced and filtered. The aggregation layer eliminates oversubscription and provides optimal performance throughout the network.
3. The traffic enters the Bricata platform allowing comprehensive network threat detection for business data inspection.


Benefits for IT and OT Security Teams
• Improve collaboration and break down silos across teams with deep visibility across all network and application layers and infrastructures.
• Reliable zero-loss packet processing.
• A single platform to proactively hunt the network for threats as well as analyze alerts and respond.
• Provides enterprise-wide visibility and remote location defense.
• Automated threat detection based on signatures, stateful anomalies, and AI-based file assessments.
• Delivers alerts with context (leverages enriched network metadata).
• Reduced time to containment.
• Installation is done on premises with collected traffic never needing to leave the network.
With 100% packet acquisition and delivery through the Garland Technology visibility portfolio, Bricata's intuitive platform transitions packets from both known and unknown malicious activity.Whether on premises, multilocational, or virtual, this flexible deployment eliminates any possible bandwidth issues by removing unnecessary packets and filtration before forwarding traffic, allowing optimal threat detection and performance from the Bricata platform.
Bricata is the leader in comprehensive network protection. The Bricata solution provides unparalleled network visibility, full-spectrum threat detection, threat hunting, and post-detection response capabilities in an intuitive, tightly integrated, and self-managing system. Its automated detection, productive GUIs, and expert system workflows make it easy-to-use for novices, while granular control of its engines, access to rich network metadata and PCAPs, and threat hunting capabilities give experts the power and control they demand. Bricata has been proven to speed incident resolution by up to eight times by reliably detecting threats and providing the context necessary to get to the truth quickly and act. For more information visit www.Bricata.com

Garland Technology and Bricata provide a continuous monitoring solution for industrial environments. Looking to add this solution, but not sure where to start? Join us for a brief network Design-IT Demo or consultation. No obligation - it's what we love to do.