Passive Fiber Network TAPs


for Network Monitoring
Passive network test access points (TAPs) are a hardware tool that allows you to monitor your network. Garland Technology offers fiber network TAPs in network speeds of 1Gb, 10Gb, 40Gb and 100Gb. Fiber Network TAPs are passive, purpose-built hardware devices that make a 100% copy of your networks data - without affecting network traffic. Passive network TAPs let your monitoring tools to see every bit, byte and packet®.
100% network visibility

100% secure and invisible; no IP address; no Mac address; cannot be hacked

Fiber TAPs in single-mode or multi-mode

for 1Gb, 10Gb, 40Gb and 100Gb

Passes physical layer errors

Portable, plug & play units, 1U or 2U chassis systems, or 1U modular system

Read the 101 blog on breakout TAPs
Made, tested & certified in the USA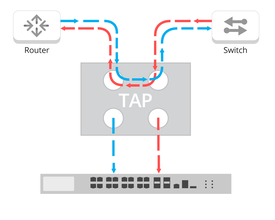 40G/100G-SR4 or 100G-SR10 MTP® Fiber Network TAPs
Multi-mode fiber in either MTP-12 (40G/100G) or MTP 24 (100G)
MTP® brand connectors for lowest dB loss
1U rack mount kit holds up to 4 modules, each module can have 1, 2 or 3 portable TAPs
Portable, Plug & Play easy installation
No power source required
40G-SR BiDi BiDirectional Network TAP
Supports Cisco BiDirectional optical technology

Unique design provides flexibility to TAP multi-mode OM3/OM4 fiber types

1U rack mount kit holds up to 4 modules, each module can have 1, 2, or 3 portable TAPs - no power source required

Exclusive high density 1U chassis with 21 TAPs