Network Packet Brokers (NPBs)


A Hybrid Bypass Network TAP
Network Packet Brokers (NPBs) are hardware devices that provide monitoring and security tools access to traffic from one to many network links. Network Packet Brokers centralize network traffic making the tools function more efficiently by sharing packets between monitoring/security appliances. Additional features include: filtering, aggregating, regenerating, and load balancing.
Available in 1G/10G/40G/100G network speeds
Modular 1U, 2U Chassis or 1U Integrated Systems
Supports all media - copper (TX), short range ( SX and SR) and long range (LX, ZX, LR, ER) fiber
Multi-mode or single-mode
Supports heartbeats for port pairs
All features are included - no per-port licensing fees
100% network visibility
100% secure and invisible; no IP address; no Mac address; cannot be hacked
Made, tested & certified in the USA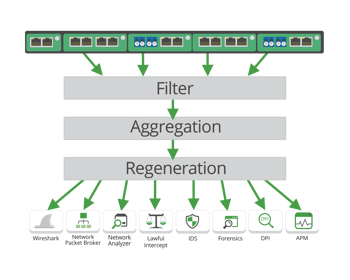 Modular Packet Broker System
Supports 1G networks
Flexible design; accommodates any network scenario
High density data center solution:
1U = 4 TAPS | 2 U = 12 TAPS
Remote Access with GUI or CLI
Port Mapping to layers 2, 3, and 4
Media Conversion:

Fiber (SX, LX, ZX) and copper (TX)

Multi-Tier Filtering supports

MAC, VLAN, IP, DSCP, TCP, UDP
EdgeLens® In-line Security Packet Broker System
Supports filtering, aggregating, load balancing, and regeneration
TAP a 1G link - or - a 10G link and deliver data to 1G and 10G appliances
TAP once and connect multiple in-line appliances
Integrated 1U chassis bypass TAP system
Dual AC hot swappable power supplies
1 Management port; 1 Console port
FAB: Filtering, Aggregating and Load Balancing Integrated System
Aggregate your network traffic to a single tool

Load balance at high network speeds across multiple appliances

Any-to-Any configurations: 1Gb, 10Gb and 40Gb

All ports can be configured as input or monitoring

Remote network management (RMON) with GUI or CLI interface

AC or DC hot swappable power supplies

Copper SFPs support 10/100/1000 base