Garland Technology LLC joins as a collaborative partner in the ForeScout ControlFabric Technology Parter Program. The program allows industry leaders in network security to collaborate and bring more value to customers.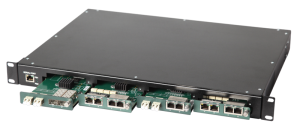 Buffalo, NY (PRWEB) October 23, 2013 -- Garland Technology LLC, a Buffalo-based network visibility provider, today announced it joined theForeScout ControlFabric™ Technology Partner Program. As a member of the program, Garland Technology will participate in ForeScout's information security ecosystem and will integrate its full line of Network TAPs with ForeScout CounterACT™. Taking advantage of this interoperability, enterprises will have greater control and visibility in their network with no added point of failure.
"Garland Technology offers a leading network visibility solution, and we're thrilled to have them join our family of ControlFabric partners," said Sam Davis, vice president of business development for ForeScout. "By combining our solutions, enterprises will be able to more rapidly, efficiently and effectively respond to a broad range of security and operational issues which is the value of the ControlFabric Partner Program."
The ControlFabric Technology Partner Program allows ForeScout to further collaborate with industry-leading hardware and software vendors, examine ways to team their solutions with ForeScout CounterACT and deliver greater customer value. Membership provides the foundation for technical, sales and marketing cooperation in order to maximize joint business opportunities. The diversity and depth of the ControlFabric ecosystem helps IT organizations better leverage their security investments, improve their company's overall security posture and optimize resources.
Garland Technology offers a full line of network Test Access Points (TAPs) that, when integrated with ForeScout's CounterACT platform and partner products, allow for complete network visibility with no added point of failure. The Garland line of TAPs guarantee that the customer's monitoring tools are receiving the data they need, strengthening network security architecture and eliminating once-necessary points of failure.
"Networks are always threatened by the unknown. Security and operation issues pose a serious threat to any network that isn't equipped to handle them. The ControlFabric platform really lets industry leaders in network security work together to combat those problems and provides a better security solution for customers," said Chris Bihary, CEO at Garland Technology. "Within the ControlFabric ecosystem, Garland's role is simple - guarantee that the customer's monitoring tools are getting all of the data they need from the network."
ForeScout ControlFabric is an open platform that facilitates ForeScout CounterACT and other IT,solutions, such as Garland's TAPS, to exchange operational data and apply policy-based controls to expedite remediation actions and automates routine activities. ForeScout CounterACT is a proven, enterprise-scale network security solution that provides visibility of all network users, endpoints and applications in real time. CounterACT shares this intelligence with other security and management systems that interoperate through ForeScout's ControlFabric Interface and receives information from these systems to trigger security policies.
About ForeScout Technologies, Inc.
ForeScout delivers pervasive network security by allowing organizations to continuously monitor and mitigate security exposures and cyber attacks. The company's CounterACT appliance dynamically identifies and assesses all network users, endpoints and applications to provide complete visibility, intelligence and policy-based mitigation of security issues. ForeScout's open ControlFabric platform allows a broad range of IT security products and management systems to share information and automate remediation actions. Because ForeScout's solutions are easy to deploy, unobtrusive, flexible and scalable, they have been chosen by more than 1,500 enterprises and government agencies. Headquartered in Campbell, California, ForeScout offers its solutions through its network of authorized partners worldwide. Learn more at http://www.forescout.com.
About Garland Technology
Garland Technology guarantees precise data monitoring capabilities for enterprise networks with no added point of failure. Garland's line of Test Access Points (TAPs) are the foundation to all network monitoring by delivering access to all data for security, network visualization, network performance monitoring, forensics, deep packet capture, data leakage, and compliance.
Garland Technology's full line of Network, Aggregation, Bypass, and Regenerating TAPs, as well as the Filtering Aggregation Load Balancing (FAB) product line, is the leading Network Access Solution. Garland's Network Access Products are available for 10/100/1000, 1 Gigabit, 10 Gigabit, 40 Gigabit, and 100 Gigabit local and wide area networks.
For more information, visit http://www.garlandtechnology.com.
Garland Technology LLC is a privately held Delaware corporation. Other names mentioned may be trademarks of their respective owners.
ForeScout Technologies, Inc. is a privately held Delaware corporation. ForeScout, the ForeScout logo, CounterACT™ and ControlFabric are trademarks of ForeScout. Other names mentioned may be trademarks of their respective owners.