EdgeLens

® In-line Security
Packet Broker System
A Fail-safe Bypass Network TAP with Filtering, Aggregating
and Load Balancing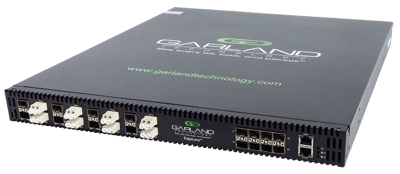 The EdgeLens® is a fail-safe bypass TAP with a built in network packet broker for complete management of the edge of your network. Deploy multiple in-line security tools and out-of-band monitoring tools while gaining 100% network access and visibility.
The EdgeLens® is your 1U box solution for all your network security and monitoring needs. When your 1G tools can no longer keep up with your 10G network or if you need to connect multiple tools to one network link the EdgeLens provides flexibility and scalability for your network's needs today and tomorrow.
• TAP once and connect multiple in-line security appliances
• TAP a 1G link - or - a 10G link and deliver data to 1G
• TAP a 10G link and deliver data to 1G and 10G tools
Filters include: User definable filters of Layer 2, 3 and 4; Mac, IP, MAC, TCP, MPLS, UDP, IPv4/IPv6, Ethertype, source and definition; Protocol: HTTP, VoIP, FTP; VLAN ID; User Defined Byte (UDB); Ingress and egress filtering
Key Features
• 1U Integrated Chassis Options:
-One -or- Four: 1G-SX/10G-SR or LR bypass TAPs (with failover) for security appliances*
-Ten -or-Sixteen: SFP/SFP+ ports for passive monitoring appliances
• Bypass TAP with heartbeat packets - active switching of traffic in event of failure
• Network Packet Broker supports: filtering, aggregating, load balancing, and regeneration
• Remote management with GUI or CLI
• SSH and HTTPS for secure management
• TACACS+ authentication
• Syslog support
• NTP support
• Dual AC or DC hot swappable power supplies
• 1 Management port; 1 Console port
• Made in the USA