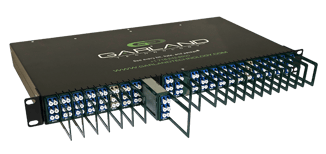 May 18, 2017: Buffalo, NY - Garland Technology, the leading manufacturer of network test access products (TAPs), announces the launch of their new Passive Fiber Modular Chassis for 1G/10G/40G/100G, a flexible, scalable and affordable high density solution for managing up to 24 links in a 1U box.

"The release of the 1U Passive Fiber Modular Chassis was customer driven. A major US manufacturer came to us with a request of a simple, 1U solution that would support their stack of legacy 1G monitoring tools, while allowing for future growth of 10G and 40G tools," stated Garland Technology CEO/Co-Founder Chris Bihary. "Because of our experience developing a variety of fiber network TAPs, we were able to go from R&D, testing/validation and launch within a few months. As of today, this product is in use at a dozen Fortune 500 sites, both domestically and globally."

The Passive Fiber Modular Chassis is a high density, high performance data center solution that provides a flexible and scalable design allowing you to meet your network needs today and tomorrow. Modular TAPs can be added or changed as network demands change over time, allowing users to optimize their investment in expensive network monitoring tools.

Chassis Features:
Supports: 1G/10G/40G/100G network speeds
Accommodates: 16 to 24 network TAP modules, based on configuration
(24 LC TAP Modules, 16 MPO/MTP® TAP Modules, 16 BiDi LC TAP Modules)
Durable, all steel construction for chassis and network TAP modules

No power, no heat, no IP address, no MAC address - 100% passive

Customize network TAPs to your networks needs

Change network TAP modes on-the-fly or in the future

Mix and match modules by media and/or speeds

Supports

single-mode:

OS1/OS2 and

multi-mode:

OM3/OM4 media for long range and short range environments

Supports Cisco BiDirectional optical technology

Available split ratios of: 90/10, 80/20, 50/50, 70/30, 60/40

Designed, manufactured and supported in the United States

View

our data sheet at www.garlandtechnology.com for complete specifications
Want to Learn More?
Read our in depth blog on the unique features and benefits.

What's a Network Passive TAP?
Passive TAPs, as Garland Technology defines them, are TAPs that will not cause the monitored devices to lose link between one another if power is lost.

Made and Tested in the USA
All network TAPs are tested and validated with live data before they leave the manufacturing facility in Texas. Garland's network TAPs are compatible with all monitoring devices, including: analyzers, probes, intrusion prevention systems, deep packet inspection, lawful intercept, content filtering, SIEM, and feeding network packet broker solutions.

About Garland Technology
Garland Technology guarantees precise data monitoring capabilities with a full line of network test access points (TAPs) including: network TAPs that support breakout, aggregation, regeneration and bypass modes; packet brokering, load balancing and filtering products; all available in portable, 1U or 2U chassis systems. Garland network TAPs support all networks, including copper wire in 10/100M, 10/100/1000M and fiber in 1G, 10G, 40G, 100G. Garland's network TAPs avoid introducing additional software that could be a point of failure to your network.

Garland's design and educational-based approach includes a team of network designers to work directly with you and your team to meet your network access and visibility needs and provide you with the best solution for any monitoring or security appliance - allowing you to see every bit, byte and packet®. For more information, visit http://www.garlandtechnology.com. Follow on Twitter @GarlandTech.