Garland Technology Showcases New Data Center Visibility Solutions at Cisco Live Berlin
for 10G, 40G and 100G Networks
Leading network TAP Manufacturer and Cisco Solution Partner, Garland Technology, introduces new visibility solutions for data centers, including a 1G/10G/40G/100G passive fiber modular chassis and a 10G/40G/100G packet broker system.
February 1, 2017: Buffalo, NY—Garland Technology, the leading manufacturer of network TAPs is a second-time sponsor of the Cisco Live user conference in Berlin, Germany on February 20 - 24, 2017 at Messe Berlin. Garland Technology will be joined by partner, Performance Vision, the leading Application Performance Monitoring (APM) and network visibility vendor at booth E85. The combination of Garland network TAPs and Performance Vision's physical and virtual capture appliances allows for 360 degree visibility to monitor the Cisco Network.
> View Joint Solution Brief
Garland Technology will showcase its two newest visibility solutions that support network monitoring and management in high speed environments. The new Modular Passive Fiber Chassis and PB100 Packet Broker System can be used separately or deployed together to create a unified visibility platform that provides the Cisco Network every bit, byte and packet® wherever the packets flow: physical network, virtual, Cloud and Software Defined Networks (SDN).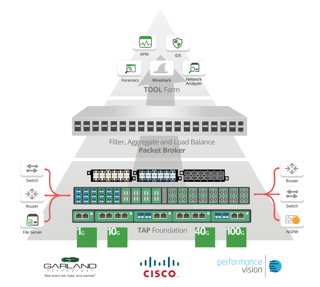 NEOX Networks, Germany's distributor for both Garland Technology and Performance Vision will be joining the Garland Technology booth E85 to showcase end-to-end visibility solutions from their portfolio of Cisco compatible solution partners.
"As bandwidth demands grow in the areas of monitoring and securing network traffic, we needed to provide a scalable and proven visibility solutions for our partners. We test and validate our products to ensure that all the data - every bit, byte, and packet® - feeds the Cisco Solution." said Chris Bihary, CEO/Co-Founder of Garland Technology. "We are committed to providing solutions for the complete enterprise network, from 1G access to 10G distribution and up to 40G and now 100G data center core."

Boris Rogier, COO of Performance Vision added: "We are excited to attend this major event in Berlin with our partner Garland Technologies where we will be introducing our revolutionary new release PV 4.2. It adds a unique visibility into performance of Citrix environments, thanks to its wire data, applications and IT infrastructure analytics."
Garland Technology New Data Center Visibility Solutions
The Modular Passive Fiber Chassis is an affordable and scalable solution for enterprise management. This 1U Chassis, supports single-mode fibers: OS1/OS2 and multi-mode fibers: OM1/OM3/OM4 and Cisco's BiDirectional optical technology and can accommodate 16 to 24 TAPs. The Modular Fiber Chassis allows the user to add and change fiber TAPs according to network needs either on-the-fly or in the future.
The PB100 10G/40G/100G Packet Broker System provides filtering, aggregating and load balancing functions that distribute the desired traffic to the designated security or monitoring tool(s). In addition to feeding the tools that data they require, additional applications are root cause analysis, historical look back and validation of policy changes.
Both product lines are fully compatible with Cisco's enterprise network platform as well as legacy network access points (TAPs) and packet brokers.
In early 2014, Garland Technology joined Cisco's Solution Partner Program – a network of companies that offers market-ready solutions for Cisco users. This program helps Cisco users gain complete visibility for their advanced network monitoring tools.
Network TAPs are considered the best practice by network professionals when 100% packet capture and traffic visibility is required. Companies that still rely on their traditional SPAN ports will eventually experience packet loss from oversubscribed ports, thus making their network monitoring and analysis appliances ineffective.
About Garland Technology
Garland Technology guarantees precise data monitoring capabilities with a full line of network test access points (TAPs) including: network TAPs that support breakout, aggregation, regeneration and bypass modes; packet brokering, load balancing and filtering products; all available in portable, 1U or 2U chassis systems. Garland network TAPs support all networks, including copper wire in 10/100M, 10/100/1000M and fiber in 1G, 10G, 40G, 100G.
Garland's design and educational-based approach includes a team of network designers to work directly with you and your team to meet your network access and visibility needs and provide you with the best solution for any monitoring or security appliance - allowing you to see every bit, byte and packet®. For more information, visit http://www.garlandtechnology.com. Follow us on Twitter @GarlandTech.
About Performance Vision
Performance Vision (PV) is a leading vendor in the Application Performance Monitoring (APM) and network visibility markets (NPM). By providing a wide range of innovative solutions that help IT managers obtain a global vision of their infrastructure, as well as application performance and usage, PV allows a 360° visibility on network performance and application delivery. PV provides full stack performance monitoring based on wire data, which helps avoid and solve performance degradations by providing a proactive and comprehensive monitoring of the end-user experience in real time.
More than 250 customers use PV for their daily IT operations, to optimize application delivery across their infrastructures.
For more information, visit our website at: http://www.performancevision.com, or follow us on Twitter @PerformanceVision.