As businesses place more emphasis on mobility and the cloud, some corners of the industry have begun to wonder out loud about whether it's time to re-think firewalls to keep pace with today's evolving data security challenges. Adaptation is survival, and security platforms will need to do precisely that in 2016 and beyond.
So, how did we get there, and who's leading the way on the technology side today?
Firewalls Then and Now
More than two decades have passed since the enterprise network firewall market was born. There were earlier iterations of firewalls, but the market took off when network administrators gained the ability to set sharply-tailored rules limiting only highly specific bands of IP traffic. Then and now, that's always been the name of the game—having the agility to block nothing but the undesirable traffic.
These days, the old-school "live wire" standard, based on a physical connection between peers on a LAN, has given way to something much nimbler—and Palo Alto Networks, a Garland Technology partner, has been leading this charge.
Next Generations aren't just the purview of Star Trek. Since 2007, Palo Alto Networks has typified the notion of the Next Generation Firewall (NGFW), the newest stage of integration in data security. NGFWs allow administrators an unprecedented level of freedom in adjusting their security configuration using a broad range of tools from a single console, even on networks distributed across numerous remote locations.
Palo Alto Networks' system is unique due to its Single-Pass Architecture, a design that boosts efficiency by contextualizing all traffic in real-time. This isn't just a firewall, but a comprehensive security platform that incorporates intrusion detection systems (IDSs), which reveal internal network threats your typical firewall just won't see on its own. Due to these and other innovations, Palo Also Networks was ranked #2 on Gartner's 2015 Magic Quadrant.
The Fight for the Future
As cyber attackers become increasingly sophisticated, firewalls will have to change accordingly. From any angle, the firewall market is trending toward three particular ideas:
The ability to wall off certain threatened subsections of the network without sacrificing ease of communication in other subsections
Focusing on threat identification outside the boundaries of the firewall, rather than simply preparing to react once malicious traffic has breached
Not depending solely on human-configured firewall parameters, but establishing systems that can "learn" on-the-fly as cybersecurity threats evolve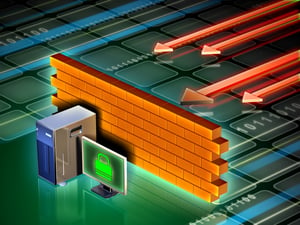 Parameters must change just as the nature of threats themselves have done, with a particular emphasis on the cloud and mobile environments.
Working within the cloud, as a shared model, requires a shared approach to security, which places some real pressure on customers themselves: as "cloud-first" continues to take hold, customers are more and more likely to entrust their personal data to these networks, particularly through mobile payment applications.
In this brave new world, security isn't just about external threats. Palo Alto Networks predicts that this shared model requires administrators to pay specific attention to the data that regular users can and cannot access inside the network because, for now, internal traffic generally isn't monitored with the same real-time tools as the external.
Cyber security has never looked more like a frontier as we gaze into the technological crystal ball. You've got to be prepared to respond swiftly to every threat, from malware programs to exploit attacks that legacy platforms just won't detect.
As the future of firewalls comes to fruition through 2020, one thing will always remain the same—the need for 100% network uptime and visibility.
Download our free white paper, Internal vs. External Network TAPs to learn the best practices for properly connecting your NGFWs and other security appliances to guarantee network visibility and access while maintaining 100% network uptime.