Nearly all cyber attacks must cross the network, so extracting security-relevant data from network traffic is essential across a wide range of security operations. As teams are moving to the cloud, they lose physical access to applications that previously were housed in the data center. Just as traditional network test access point (TAP) and packet broker solutions fuel monitoring tools traffic from across the network, a solution is needed to continue to feed these tools when there is no longer physical access to applications that now reside in the cloud.

Realizing that organizations need a solution that will provide total network visibility, whether the workloads are on-prem or in the cloud, we released a flexible, cost-effective solution that can be scaled over time.


Achieve True Network Traffic Analysis Visibility On-Prem and in the Cloud

Some organizations moving to the cloud think that the solution is to rip and replace tools to gain cloud visibility. That's not the best solution at all. Garland Prism's next-gen agent technology can acquire, process, and distribute cloud packet traffic to our traditional high-performance network test access points (TAPs) and packet broker solutions. Garland Prisms is capable of tapping, filtering, and distributing cloud packet traffic to any IP address in-cloud or on-prem. Garland Prisms then sends the tapped traffic to PacketMAX™: Advanced Aggregators through VXLAN or GRE tunnels. The PacketMAX terminates the tunnel and distributes traffic to any number of on-prem tools.

The Garland Prisms solution provides flexibility to organizations to continue with their existing security infrastructure. The solution is affordable, easy to deploy, simple to use, and offers a scalable way to capture network traffic, thus reducing organization risk.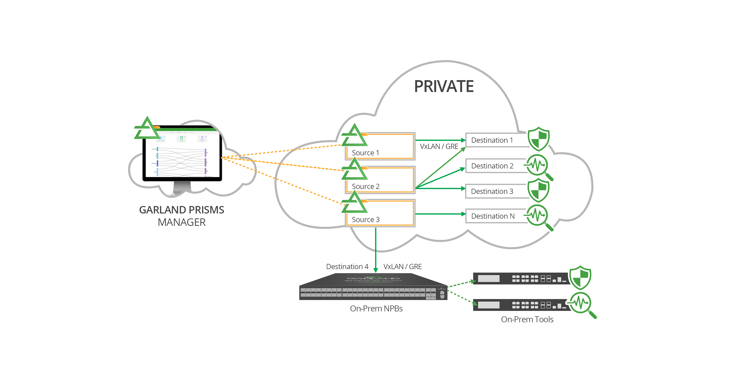 Acquire Cloud Packets
Garland Prisms captures and orchestrates cloud packet traffic from cloud provider infrastructure, such as Azure VTAPS, AWS, cloud firewalls, and cloud workloads including VMs and containers.


Process
Garland Prisms' Service Processor (PSP) prepares packet streams for distribution to a Garland Technology NPB for seamless integration with existing infrastructure. The PSP is container-based and infinitely scalable; it sits inside your cloud subscription, which maximizes security while minimizing impact on resources and exit charges.


Distribute
Garland Prisms distribute cloud packet traffic to any team, tool, or process. The same source packet streams can be replicated to multiple destinations to save cost, computer overhead, and management strain. Full packet streams can also be replicated for storage, monitoring, and compliance needs.


Reliable Traffic Aggregation, Load Balancing & Filtering
Through the use of Garland Prisms VxLAN/GRE, organizations can feed the traffic into Garland's PacketMAX packet brokers to get full control over traffic behavior, (e.g. load balance if scale is an issue) and create flexibility for aggregation and re-generation (e.g. feed multiple on-prem appliances).

Looking to add visibility to your cloud deployment, but not sure where to start? Join us for a brief network Design-IT consultation or demo. No obligation - it's what we love to do!