Centralized control of traffic flows is critical for monitoring 10G, 25G, 40G and 100G networks. But before implementing SDN, network architects must ensure that they have a solid visibility plane that ensures 100% of packets will be seen by the SDN controller. To achieve complete transparency with application monitoring tools, comprised of network analyzers, computer forensic analysis and data capture, data leakage prevention (DLP), intrusion detection, content filtering, lawful interception and data recording, network architects must provide a complete foundation of visibility.


And in order to achieve that level of visibility, a reliable access layer of Network TAPs is a critical foundation of all visibility fabrics.


Dell EMC + Big Switch Networks + Garland Technology = Complete SDN Visibility Solution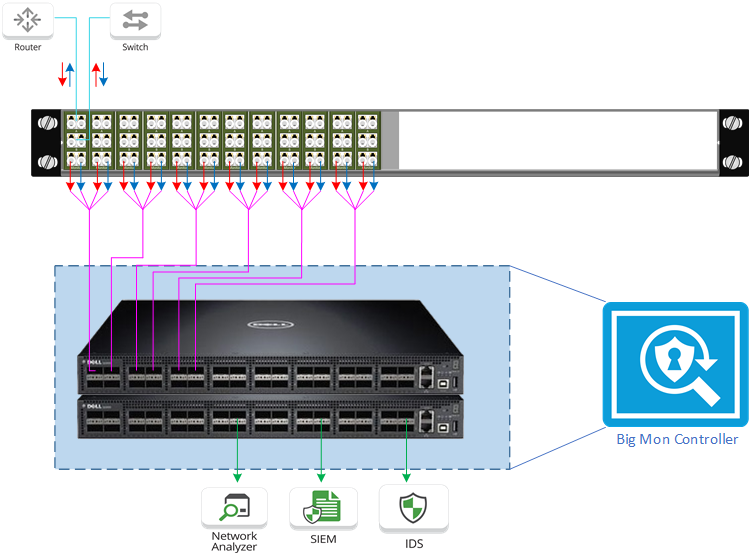 Garland Technology's Network TAPs are used to passively copy production traffic over to the Dell Whitebox Switches in the monitor network. The Dell switch's control planes are then managed by Big Switch's Big Mon Controller. As tapped monitor traffic is sent to the Dell switch, the switch is capable of sending information about the network to the Big Mon Controller, which can then direct the Dell switches on how to distribute the traffic to multiple monitoring tools.

Data centers making use of the Big Monitoring Fabric™ create attractive replacements for expensive NPBs, while ensuring complete network visibility. In addition to being able to monitor every rack or location in the network, customers also gain visibility to 4G/LTE traffic.

By packaging Dell Open Networking Switches into Open SDN Fabric Solutions, customers now have access to the advanced feature sets enabled by SDN software, with all the reassurance of Dell's global support and services. This partnership delivers modern networking fabrics for data centers looking to achieve high degrees of network automation at cloud-competitive price points.

[Want to learn more about how the Garland Technology, Dell EMC and Big Switch Networks joint solution can deliver complete network visibility? Speak with a member of our design team today to get started!]