With the rise in the number of monitoring tools enterprises are using to analyze their network traffic, a new problem has arisen; how will you get network traffic to multiple out-of-band monitoring tools? Garland Technology recognized the need for a Network TAP that would allow traffic from a single network link to be sent to multiple monitoring appliances to analyze the network.


Garland is excited to announce the launch of two new products to our comprehensive line of Copper and Fiber Network TAPs, the RegenTAP: 1x5 and RegenTAP: Dual Breakout, both for 10G networks.


RegenTAP: 1x5
Regeneration TAPs are used to capture 100% full duplex traffic that can then be sent to multiple monitoring appliances to analyze your network. Garland's RegenTAP: 1x5 provides up to five complete copies of data from a single link to monitoring or security devices in your network. This is an ideal application for companies with multiple devices that need to guarantee 100% packet visibility, but doesn't require the advanced filtering and aggregation that would be provided by Network Packet Brokers.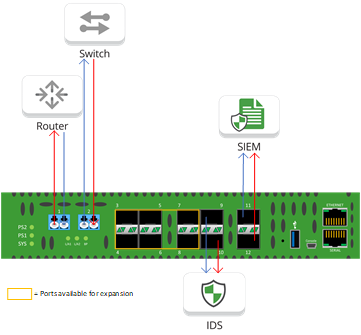 In this example, we see traffic going to both a SIEM and an IDS. This leaves three full sets of traffic for future expansion. The RegenTAP: 1x5 is a cost-effective solution that can solve your network access problem today and as your network grows, providing excellent ROI compared to alternative solutions.


RegenTAP: Dual Breakout
A multifaceted device, Garland's RegenTAP: Dual Breakout also provides multiple complete copies of data to monitoring and security devices in your network. The Dual Breakout houses two TAPs in one appliance, while providing tap 'breakout' copies of data, this product also provides aggregation copies for additional applications. This means that multiple links, or one redundant connection can be tapped using one device, saving space and resources in the data center.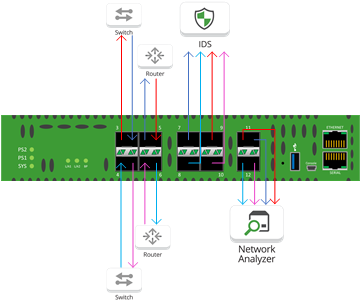 In this use case, full line-rate traffic is being sent to an IDS that has a 4 port NIC. A network analyze with fewer ports can receive an aggregated copy of the traffic.


TAP Unique Types of Links
There has recently been a rise in the use of direct connect cables being used to build out data center and network infrastructure. Direct connect cables are considered an active cable, meaning the only way the cable can work is to be powered, and that traditional failsafe technology cannot be used. To solve this issue, the RegenTAP: Dual Breakout comes with pre-configured ports that are locked down, ensuring that router traffic will always go to the switch, and the switch traffic will always go to the router. Additionally, redundant power supplies guarantee that the TAP will always be powered and eliminating the chances of network downtime.


TAP 10G Copper links
While many copper ethernet links remain at 1G, for companies that have migrated to 10G Copper Networks, the RegenTAP: Dual Breakout also provides the option to use copper transceivers to tap any 10G copper links and send multiple copies of that traffic to monitoring tools for analysis.

Garland Technology's best-in-class Network TAP and purpose-built Packet Broker solutions provide an innovative, industry leading 360° view for modern visibility fabrics. Our unique adaptability makes it easy for you to help save your customers' budget by deploying what they need, when they need it, and by adding value to existing infrastructure.


Looking to add a visibility to your next deployment, but not sure where to start? Join us for a brief network Design-IT consultation or demo. No obligation - it's what we love to do.