Network Test Access Point (TAP)

A network TAP is a hardware tool that allows you to access and monitor your network. TAPs transmit both the send and receive data streams simultaneously on separate dedicated channels, ensuring all data arrives at the monitoring device in real time.
Deciding how to get data from your network and into your monitoring and security tools is just as important as the tools themselves. Network TAPs are the best practice - and only guaranteed method for 100% data capture.
How Do Network TAPs Work?
Network TAPs are inserted between network devices, where they copy data continuously, 24/7, without compromising network integrity. Different types of network TAPs are used with monitoring and security tools.
Network TAPs come in variety of configurations:
Copper or fiber network support

Media Conversion (copper to fiber)

Passive, listen-only TAPs for monitoring devices

Active, inline network TAPs that provide a failsafe for security tools
Each type of network TAP operates differently based on the requirements it needs to perform. In our Primer on Network TAPs, we review the different functions and benefits to using each TAP mode.
Here's a quick overview of the different TAP modes:
Breakout "Normal" TAPs: Ensures that no packet is lost to high-priority monitoring tools
Filtering TAPs: Allows you to set rules on what data is filtered and sent to monitoring or security tools. Filtering prevents ports from becoming oversubscribed
Aggregation TAPs: Merge traffic streams into one monitoring port to reduce appliance costs, often used in combination with filtering taps, ie: filter, aggregate data streams
Replication/SPAN TAPs: Create multiple copies of network data to support multiple devices from a single connectivity point
Bypass TAPs: Prevents in-line devices from causing network downtime if the event the inline device fails or need to be updated.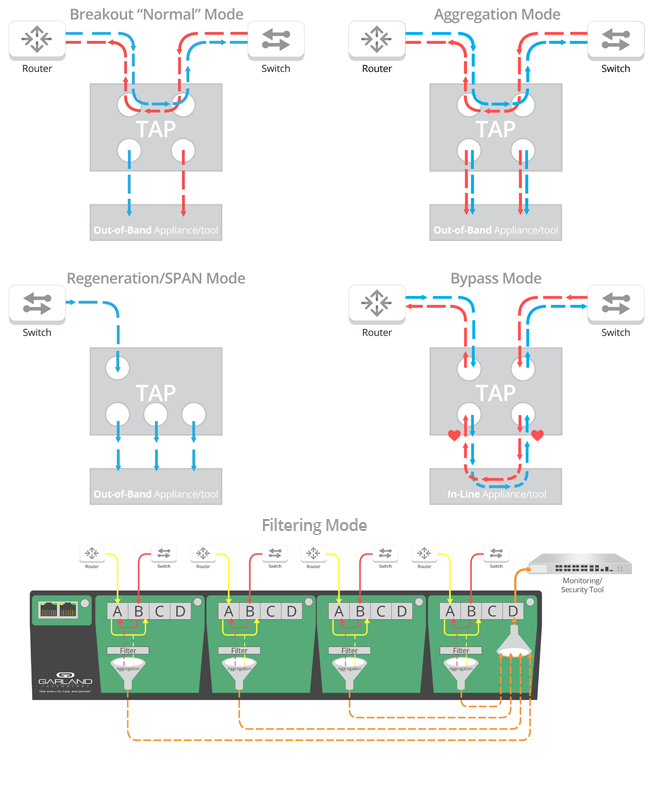 Want to dig deeper? Read Garland Technology's eBook Network TAPs 101 - The Networking User Guide.