Just as large enterprises settle into 10G networking, bandwidth intensive applications and big data demands are forcing companies to adopt 40G network speeds. However, the shift from 10G to 40G requires a major investment in a new cabling infrastructure, leaving architects in a difficult position when trying to make upgrades.

To make 40G more accessible, Cisco, a Garland Technology partner, created bidirectional (BiDi) 40G fiber connectivity. But the technology is not without its challenges.


Boosting bandwidth 10G to 40G so quickly introduces significant monitoring challenges. However, network TAPs that support 40G BiDi technology, such as Garland Technology's multi-mode 40G-SR-BiDi passive fiber TAPs, can help organizations achieve 40G speeds without dropping packets even in environments with the highest utilization.
What Is BiDi Technology and Why Should You Care?
Large enterprises that have functioned with 1G fiber from servers to tops-of-racks (TOR) and 10G fiber from TORs to an aggregator, are now upgrading to avoid oversubscription. However, introducing 10G off servers and moving to 40G from TORs would typically require network managers to replace the entire cable infrastructure.

Typically, the 10G traffic from TORs to aggregators requires two strands of OM3 or OM4 multi-mode fiber, according to IEEE standards for SF4. Using this aging standard for 40G would require four 10G links for the receive connections, four 10G links for the transmit connections and essentially four unused links as MPO 12 connectors are implemented.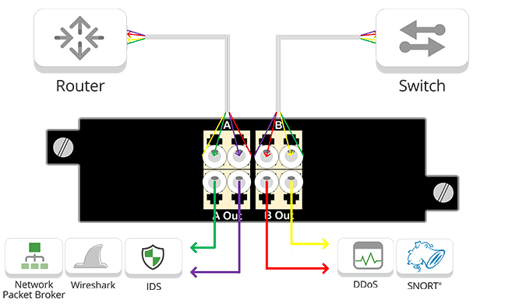 Purchasing new MPO 12 connectors and supporting cabling is an undertaking that many companies can't afford to handle; so Cisco developed 40G BiDi technology, using two parallel multi-mode fiber strands to transmit the signal bidirectionally rather than unidirectionally.

The Cisco QSFP 40-Gbps BiDi transceiver has two 20-Gbps channels, each transmitted and received simultaneously on two wavelengths when connected to a duplex MMF. The result is an aggregated 40-Gbps lnk over a duplex MMF.
Rather than implementing 8 brand-new fiber cables, BiDi allows network managers to achieve 40G traffic over their existing cable infrastructure.

As a Cisco technology partner, Garland Technology developed the BiDI Passive Fiber Network TAPs to ensure all data—every bit, byte and packet®—is copied to the Cisco solution.



Monitoring 40G BiDi Environments with the 40G-SR BiDi TAP from Garland
Even though BiDi technology unifies 10G simplex cables to create bidirectional 20G links, traffic must still be treated as if it comes from four different links. That's why network TAPs must support four cable connections to monitoring appliances in BiDi environments.

Consider the following features of the 40G-SR BiDi TAP that help you ensure visibility in your BiDi environment:
New prism-based technology to reduce bit errors on OM3 and OM4 applications
SelectTAP: Fiber Modular Chassis supports BiDi environments
Unique high-density design supports 21 TAPs in one rack mount
Any time you're migrating from one network speed to another, you must ensure the network design is prepared to support greater traffic demands without losing visibility.

Looking to add BiDi TAPs to your security deployment, but not sure where to start? Join us for a brief network Design-IT consultation or demo. No obligation - it's what we love to do!