Today's complex networks require hardware and software vendors to work well together to provide solutions that meet the customers' needs. As a manufacturer of network TAPs and packet broker solutions, Garland Technology knows that enterprises, service providers and government agencies worldwide are likely to have network visibility and access tools from many different vendors in their networks.


That's why we like to highlight how Garland Technology can work with your existing network packet broker infrastructure, to provide added visibility and ROI to existing investments.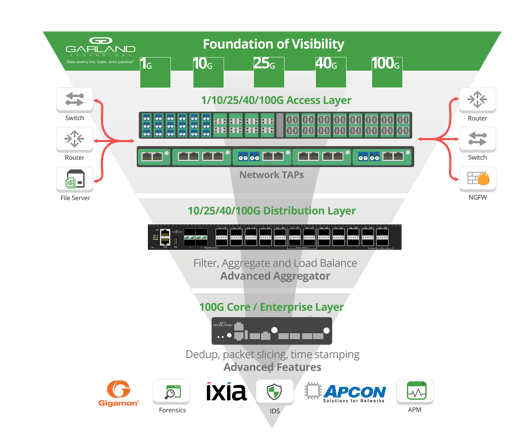 Enhance Visibility to your Core Device
By following network visibility fabric best practices, you can breathe new life into your existing packet brokers through:

Access Layer: A reliable access layer composed of network TAPs is a critical foundation of all visibility fabrics.

Aggregation Layer: Adding an aggregation layer to your existing core can provide cost savings and improved efficiency.

Advanced Packet Manipulation: Adding a standalone platform extends your feature set, while taking performance burden off the packet broker.

Inline Security: Adding bypass TAPs and hybrid NPBs with inline capabilities secure your deployment from malicious threats.
How Garland Works with your Existing Investment
Use case: Upgrading to 40G Speeds

With an upgrade to multimode 40G, you need to decide how best to provide visibility and access to the new links. While simply replacing everything from the cabling all the way up to the tools to accommodate 40G speeds, may be your first thought, that may not prove to be the solution. For instance, certain monitoring and security tools that you currently use may not support those higher speeds, or the additional purchase could be very cost prohibitive.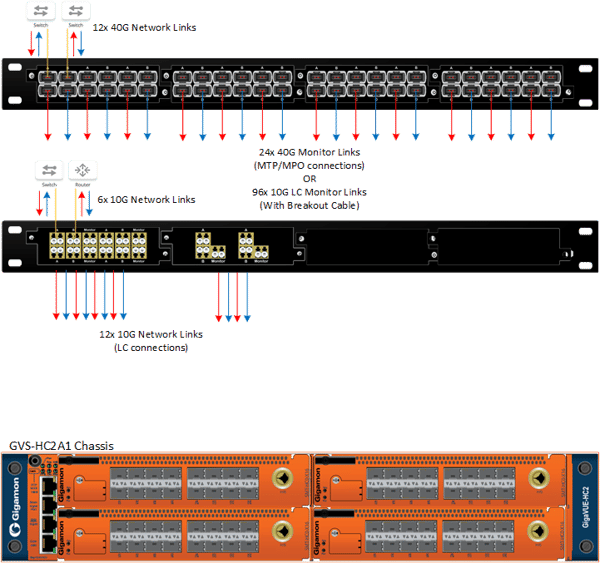 In this example, when upgrading to Multimode 40G links, the solution uses cables with MTP®/MPO connectors instead of LC ports. This will then require a TAP with an MTP/MPO connection. The 10G multiple mode links will require TAPs with LC connections.

Here, the Gigamon HC2 packet broker is modular, allowing it to support multiple types of media connections in different densities. However, with only 4 module bays, a single appliance will not be able to support all the connections required.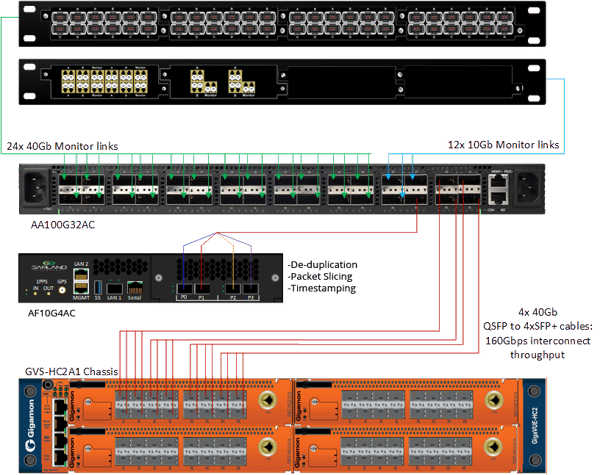 By adding in Garland Technology's PacketMAX™: Advanced Aggregator, the tapped traffic can be aggregated together to fully utilize each monitor link. Instead of requiring the Gigamon packet broker to support multiple under-utilized monitor links, the Advanced Aggregator allows the packet broker to make the most out of each of its ports. Less ports on the packet broker will be needed, and less expensive modules/licenses will be required, which will save the customer money and extend the lifespan of the packet broker.

With the addition of the PacketMAX™: Advanced Features for de-duplication, packet slicing, GRE tunneling and timestamping, licensing fees and processing overhead are also significantly reduced.

Through our full platform of network access products, Garland Technology adds value back to your investment, allowing you to easily upgrade existing speeds and save on new tools, create scalable solutions for future growth, and make more effective use of NPB licenses and ports.

Looking to add additional traffic aggregation, but not sure where to start? Join us for a brief network Design-IT consultation or demo. No obligation - it's what we love to do.