In today's environments with significant investment in security and monitoring tools, Garland Technology recognizes the need for a cost-effective solution that provides the flexibility and performance that networks today require. We have chosen to take the approach to deconstruct our packet broker solutions. Through the use of separate and dedicated hardware appliances to perform specific tasks, there is no degradation of overall performance while performing CPU intensive tasks or additional license fees. This ensures that our customers have solutions that are flexible and scalable for future on-demand growth, while ensuring excellent ROI today.

To build on our current PacketMAX™ packet broker solutions, consisting of our Advanced Aggregators, and Advanced Features Dedup, Garland is excited to announce the launch of our new PacketMAX™: Advanced Features appliance, that adds time stamping and packet slicing capabilities to your network.


Designed as a standalone platform to extend the feature set of any product, the PacketMAX: Advanced Features appliance is a scalable packet processing system, suitable for 1G/10G/40G/100G networks.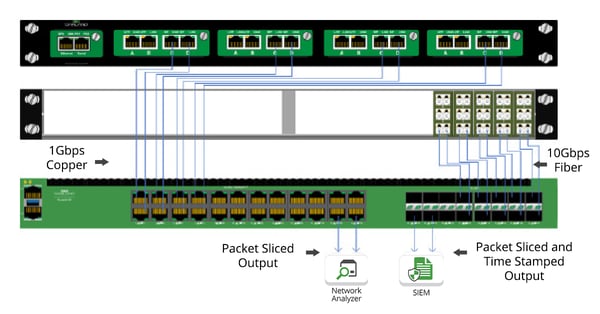 Diagram 1: The 1G PacketMAX: Advanced Features tool can be used with tapping infrastructure to add additional feature sets, like packet slicing and time stamping, without a full featured packet broker infrastructure.


Features Designed for Better Network Performance
Time stamping packets is essential to understanding what is going on in the network at the packet level by allowing the proper measurement of network latency and network performance. This is critical for packet capture and forensic analysis, providing the ability to analyze and mitigate the effects of cyberattacks.

Packet slicing removes the payload of the packet, while preserving the portion of the packet that is required for network monitoring and security analysis. The processing payload to security or monitoring tools is reduced, extending the life of existing security and monitoring tools by improving tool or packet broker performance. Packet slicing can also be used to ensure compliance with privacy requirements by eliminating sensitive data from packets.

In addition to NTP time stamping and packet slicing, this advanced features appliance is designed to support traffic aggregation, GRE termination, ERSPAN Termination, hash-based round-robin load balancing, sFlow support, and passes physical layer errors, among other features.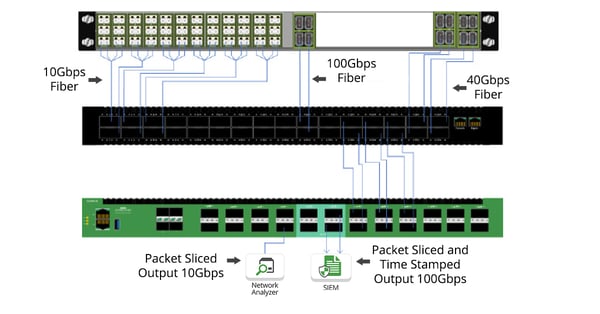 Diagram 2: The 40G PacketMAX: Advanced Features tool can be used with higher speed tapping and packet broker infrastructure to add additional feature sets, like packet slicing and time stamping, without putting additional processing overhead on the NPBs or tools.

Garland Technology's best-in-class Network TAP and purpose-built Packet Broker solutions provide an innovative, industry leading 360° view for modern visibility fabrics. Our unique adaptability makes it easy for you to help save your customers' budget by deploying what they need, when they need it, and by adding value to existing infrastructure.


Looking to add aggregation to your next deployment, but not sure where to start? Join us for a brief network Design-IT consultation or demo. No obligation - it's what we love to do!