Expecting a PDF?
We created this solution brief as a web page for better mobile optimization and accessibility. If you'd still like a PDF version of this use case, you can download it here:
Ensure Complete 360 Visibility with Your Inline Cisco Appliance
Network security requires complete visibility and intelligence covering all threats for comprehensive protection. The strong relationship between Garland Technology and Cisco spans across a spectrum of supported products ensuring 100% network up-time and visibility. As a preferred Cisco Solution Partner, Garland Technology has solidified the importance of this relationship providing maximum visibility and access for Cisco security and performance monitoring solutions. Garland Technology's network test access points (TAPs) provide a foundation for Cisco Enterprise Network visibility fabric by ensuring all the data feed the solution.

Garland Technology's Inline Edge Security solutions provides bypass connectivity, easily allowing for complete lifecycle management of inline appliances, like Cisco Firewalls or Firepower NGIPS, while replicating traffic for use with all out-of-band tools for further analysis. The solution provides increased resiliency of the network, while providing the functionality to expedite troubleshooting and shorten maintenance windows.
Lifecycle Management of your Inline Cisco Appliance
Garland's external Bypass TAP provides additional functionality not found in incorporated bypass functionality, allowing networks to be easily evaluated, optimized, and validated with an inline appliance. The combination of failsafe on the network ports and the heartbeat functionality of a bypass TAP provides an additional layer of fault tolerance to live wire data traffic. Without impacting the availability of the network, lifecycle management provides the flexibility to sandbox or pilot new tools in a real environment with live packet data.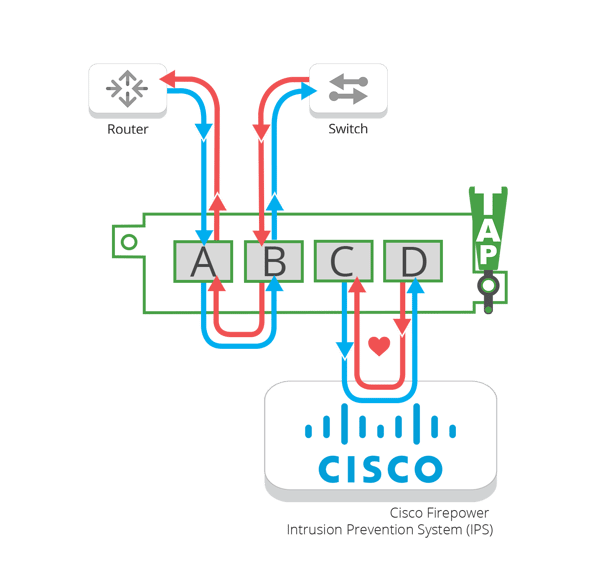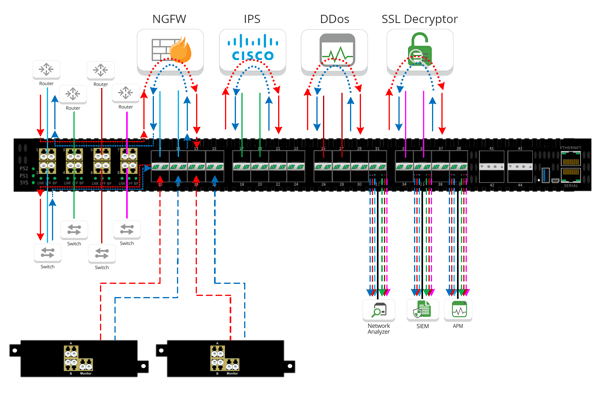 Manage Multiple Inline Security Appliances
Whether you have one inline tool, or many, adding proper inline architecture provides flexibility and interoperability to your network. Garland's EdgeLens® Inline Security Packet Brokers provide failsafe and bypass functionality, critical for network uptime, combined with the high density and functionality of packet brokers, allowing you to filter, aggregate, and load balance network traffic. You gain the ability to manage multiple inline tools, sandbox, and easily expand your security stack without having to bring the network down.
Remember:
10G Chaining of up to 4 inline security appliances
Advanced Load Balancing of 4 inline security appliances
Send additional copies of live, wire traffic to out-of-band monitoring tools.
Perform a comparative analysis of the packet data before and after it is processed by inline tools [IPS, Firewall] to ensure they are working properly to secure the network.
Supports BiDirectional Optical Technology by Cisco
For out-of-band network monitoring and analysis, Garland's unique BiDi design provides the flexibility to TAP, from 1G/10G/40G/100G for both Single-Mode and Multi-Mode, and OS2 to OM5 BiDi Fiber. BiDi Network TAPs in tandem with Garland's PacketMAXTM: Advanced Aggregator are effective to ensure existing infrastructure visibility when upgrading network speeds (e.g. from 10G to 40G/100G). By using 40G/100G BiDi technology, which uses two parallel multi-mode fiber strands to transmit the signal bidirectionally rather than unidirectionally, network managers are able to achieve 100G traffic over their existing cable infrastructure.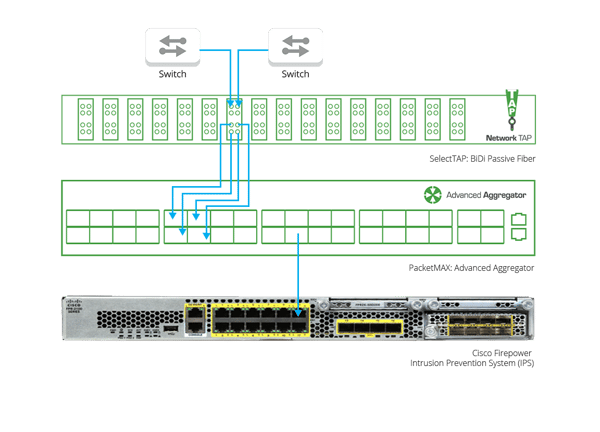 Cisco is a global leader in telecommunications, security, network infrastructure and IT applications. Garland Technology has joined the solution partner program, giving clients who use Cisco products a great out-of-the-box solution for connecting your network.
Ask your Garland Network Designer about the new 40G-SR-BiDi Network TAP - an exclusive Cisco Partner Solution that supports Cisco's BiDirectional Optical Technology.
As part of the Cisco Solution Partner Program, Garland Technology helps provide visibility and access for Cisco security and performance monitoring solutions. www.cisco.com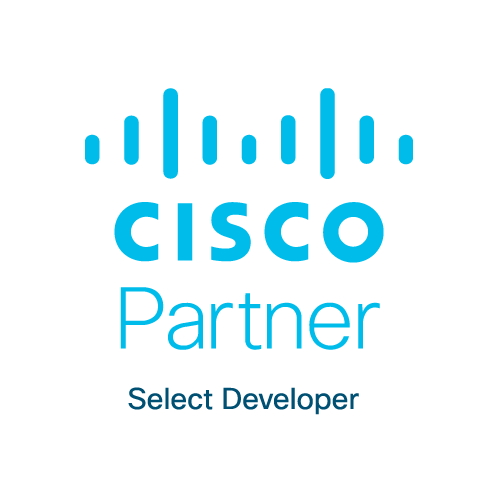 Garland Technology and Cisco provide maximum visibility and access for Cisco security solutions. Looking to add this solution, but not sure where to start? Join us for a brief network Design-IT Demo or consultation. No obligation - it's what we love to do.