Banks, trading companies, investment firms, and insurance companies must have 100% visibility as the basis of their network security strategies
Hackers and other cyber criminals target banks, investment firms, and insurance companies largely due to the fact that these organizations are some of the wealthiest in the country. It only makes sense that hackers follow the money. Over the last several years not only the number, but the sheer size and sophistication of cyber attacks and breaches has been on the rise. Today's it's not a matter of have you been breached, but when will you be breached.

Successful breaches threaten disruption of operations, profit, data privacy of customers, and the institution's reputation. Banks and other financial institutions have more data on their customers than any other industry, with the exception of healthcare. The amount of data a company has on customers directly correlates to the chance they will be a target of a ransomware attack to steal and profit off that data. But by recognizing that no system is perfect, and hackers will find a way in, networking and security teams can work together to protect valuable intellectual property and customer data from cyber criminals, design network architectures that are comprehensive and resilient, enhance continuous monitoring, and reduce the time to respond to threats.
Provide 360° Network Visibility
Financial services are experiencing a digital transformation. Consumers want the same online experience they have gotten used to when shopping on Amazon or at their favorite retailer, when shopping for a mortgage or investment plan. They also want anytime access to their money, requiring banks to build and reinforce networks with resiliency and redundancy to minimize any downtime.

This means that the industry is spending billions of dollars on digital technology. Networks are growing, with an increased amount of data flowing that must be secured. Securing these wide, disparate network starts with visibility into and monitoring the different endpoints, whether they be mobile devices, voice assistants like, Google Home or Amazon Echo, ATMs, etc. Ensuring complete visibility across the network, thus eliminating blind spots, is the first step to securing your network. After all you can't protect what you can't see.
When Milliseconds Matter, Minimizing Latency is Critical
When it comes to stock and currency trading and other financial transactions, speed matters. Millions of dollars are at risk if a network runs even a second slower than normal. Optimizing network performance can lead to an edge over the competition. With such high stakes, networking teams are tasked with finding new ways to monitor networks to improve accuracy and reduce latency, while adhering to strict security standards. Accuracy of the data flowing within the network is extremely important. Dropped packets can lead to errors, increased latency, incorrect trades, and even compliance issues. Relying on a robust network visibility fabric made up of TAPs, bypass switches, and network packet brokers, these institutions have the full visibility they need to comply with PCI standards, and other federal and state regulations. Network Best Practices for Financial
Enterprise IT teams face many challenges. Let's explore financial network use cases on how to solve them:
Creating a foundation of visibility is key for network management. Once deployed, network TAPs allow you to access that point in your network at any time. Many financial organizations have adopted the stance of tapping all critical links for easy access during troubleshooting or inevitable security breaches.
3 Keys To Network Resiliency
The ability to update, repair, and replace security appliances without bringing down the network for a maintenance window, and reduce the risks of unplanned downtime, are the next step for network resilience.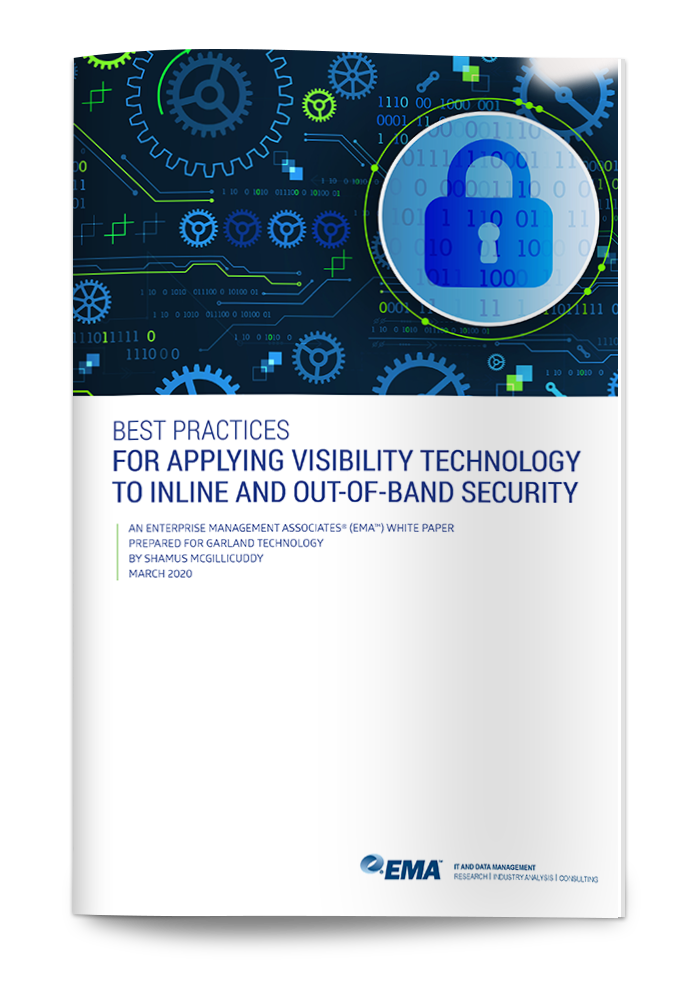 EMA Security Visibility Technology
This whitepaper by EMA (Enterprise Management Associates) explores best practices on how enterprises use network visibility technologies for both inline and out-of-band security use cases to support security solutions.
TAP into Technology
Leading the way in Network Technology
| February 27, 2020
With the migration to cloud networks underway, companies are focused on the long term benefits of lowering their costs, utilizing faster innovation..