Expecting a PDF?
We created this solution brief as a web page for better mobile optimization and accessibility. If you'd still like a PDF version of this use case, you can download it here:
Managing The Network, IoT Devices, and Your Growing Attack Surface
As critical network infrastructures adopt advanced automation systems to integrate internet connection sharing (ICS) and SCADA technologies, securing the increased attack surface from threats becomes unmanageable. These industrial networks are constantly evolving due to developments such as the Industrial Internet of Things (IIoT), Industry 4.0, and smart grids, requiring a shift in the security mindset to advance OT connectivity.

Planning a robust network security architecture requires a solution with tailored characteristics, specifically designed for high availability and the unique traffic patterns of OT networks. Continuous OT network monitoring that provides visibility, automatic asset discovery, inventory management, risk management, and threat detection is needed to capture the current operational behavior of the environment.

SCADAfence's non-intrusive platform for deep packet inspection (DPI) together with Garland Technology's network TAP and Network Packet Broker solution, works to provide complete traffic visibility, security, and asset inventory management in real-time. By extending visibility into OT networks, organizations gain control over their environments and can detect malicious activities, reducing risk through continuous monitoring and proactive mitigation.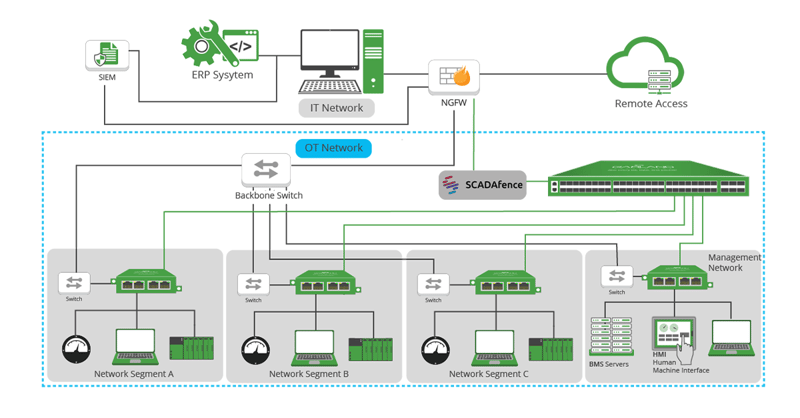 1. Within the OT environment, data from the network segments and IoT centric substations are fed through Garland Technology Network TAPs mirroring the network traffic to provide 100% visibility across the environments.
2. Data from multiple Network TAPs are delivered to the Garland's PacketMAXTM Advanced Aggregator to combine, filter, and load balance the mirrored traffic.
3. The aggregated traffic is then delivered to the non-intrusive software-based SCADAfence platform, which listens to network traffic without impacting day-to-day operational processes.
4. The SCADAfence Platform produces a complete asset inventory and advanced network map that visualizes traffic patterns.
5. The SCADAfence Platform continues to monitor the network traffic and creates alerts on suspicious activities, unauthorized connections, asset vulnerabilities, malware and ransomware spread, misconfigurations, and other suspicious events.
6. The SCADAfence Governance Portal aggregates the network level events from the SCADAfence Portal installations in the various sites, and other 3rd party products, and enables IT and OT departments to centrally manage compliance to regulations and organizational policies.
Benefits for IT and OT Security Teams
• Improve collaboration and break down silos across teams with deep visibility across all network and application layers and infrastructures.
• Automatic discovery and asset management.
• Reduce network downtime to improve reliability, reduce costs, and gain better device utilization.
• Gain visibility into industrial protocols and industrial equipment activities.
• Detect and provide alerts on cybersecurity and operational incidents: suspicious activities, exposures, malware attacks, and operational alerts such as service availability, and misconfigurations.
• Get proactive and actionable recommendations regarding risks and vulnerabilities in the OT network.
• Gain unique visibility into remote access connections and correlate OT actions to IT accounts.
• Automated management level reports of security risks and regulatory compliance.
• Advanced integration scenarios with security dashboards, incident management, or enforcement tools.
The deployment of Garland Technology and SCADAfence together provides the required visibility and security for your organization. By gaining complete IIoT packet capture, the joint solution brings components that are compatible no matter the environment. Complementing both IT security firewalls and gateways, while also implementing non-intrusive OT network monitoring, the joint solution manages assets across your multi-site networks.
SCADAfence is the global technology leader in OT & IoT cybersecurity. The SCADAfence platform enables organizations with complex OT networks to embrace the benefits of industrial IoT by reducing cyber risks and mitigating operational threats. The non-intrusive platform provides full coverage of large-scale networks, offering best-in-class detection accuracy, asset discovery, and governance with minimal false-positives. A Gartner "Cool Vendor" in 2020, SCADAfence delivers proactive security and visibility to some of the world's most complex OT networks, including the largest manufacturing facility in Europe. SCADAfence enables organizations in manufacturing, building management, and critical infrastructure industries to operate securely, reliably, and efficiently. To learn more, go to www.scadafence.com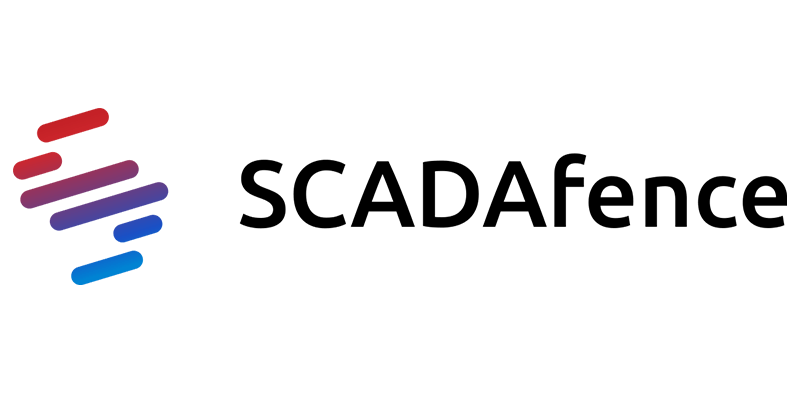 Garland Technology and SCADAfence provide a continuous monitoring solution for industrial environments. Looking to add this solution, but not sure where to start? Join us for a brief network Design-IT Demo or consultation. No obligation - it's what we love to do.