Watch how Garland Technology helps Stamus Networks.
Network TAPs and Network-based High Performance Threat Detection.
PROBLEM
SOLUTION
BENEFITS
ABOUT STAMUS NETWORKS
PROBLEM
Keeping an enterprise network and associated assets secure is an immense responsibility. Organizations large and small cannot properly deliver on their promise to stakeholders without a well-functioning and secure network infrastructure. At the same time, the pressures on cyber defenders to quickly assess and respond to threats such as attacks from ransomware and spyware, in realtime, is intense. Lack of visibility into segments of the network or a single ignored warning can turn a demanding day into a stressful scramble at best, and possibly even a serious breach.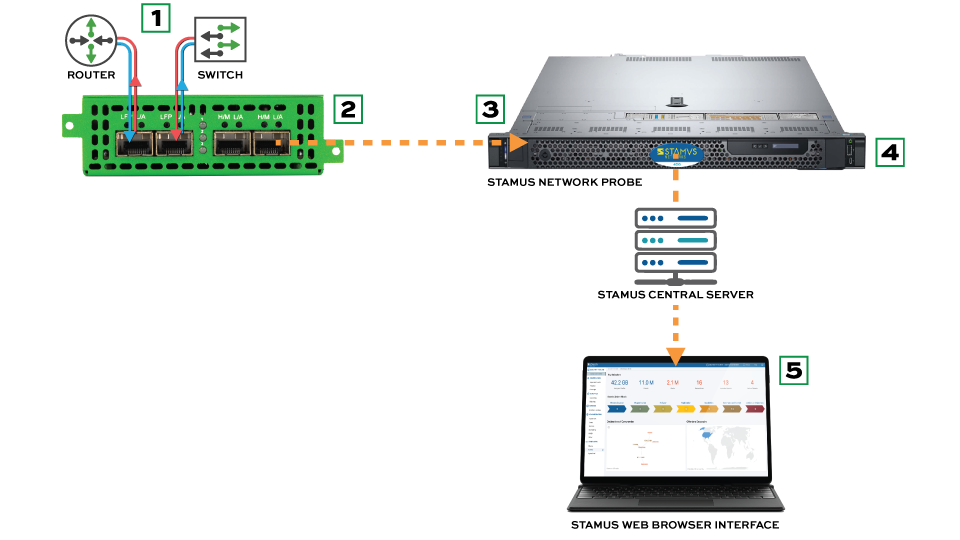 1. Network TAPs from Garland Technology connect to the on-premise IT network by installing between two network devices.
2. One or more Stamus Network Probes connect to the network TAPs.
3. Network TAPs copy full-duplex traffic and send the copies to the out-of-band Stamus Network Probes.
4. The Stamus Network Probes, which are based on the Suricata open-source network security engine, receive copies of the traffic and perform real-time threat detection, enrich the resulting events with extensive metadata, and capture network protocol transactions.
5. Stamus Network Probes then feed the Stamus Central Server for additional threat detection and advanced analytics along with a guided threat hunting interface. Users access the entire system via web browser.