Connect Reveal(x) with a Garland Technology TAP and see all network packets immediately. Enjoy real-time threat detection with no dropped packets.
Providing 100% network visibility with an end-to-end infrastructure that eliminates any blind spots in the network
Garland Technology's network TAPs and packet brokers aggregate the live wire for 100% packet capture in a network. In order to secure the data at the physical layer through these reliable network TAPs, the ExtraHop Reveal(x) platform provides real-time application visibility to monitor, protect, block, and analyze traffic in real-time, all the time.

ExtraHop makes data-driven IT a reality with real-time analytics and machine learning, turning the network into the most accurate and timely source of operational and security intelligence for everyone from the network engineer to the CIO. Cloud-native network detection and response (NDR) from ExtraHop Reveal(x) provides complete east-west visibility, real-time threat detection, and intelligent response capabilities through network traffic analysis (NTA) at scale.
Garland's high density passive SelectTAPTM provides 100% packet capture, allowing multiple tapped links to flow from the TAPs to Garland's PacketMAXTM Advanced Aggregator.
The PacketMAX then aggregates, load balance, filter, and distribute the tapped traffic.
The aggregated traffic enters the ExtraHop Reveal(x) stream processor, which performs out-of-band decryption at line rate, protocol decoding, and full-stream reassembly at up to 100Gbps of throughput.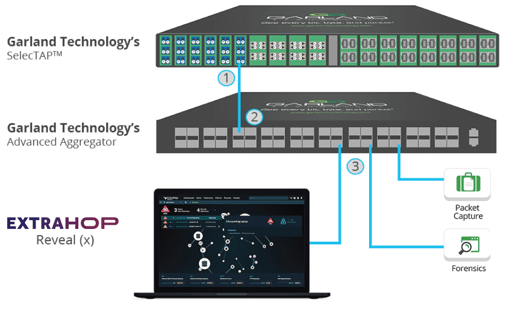 Benefits of the Garland and ExtraHop Solution
Integration Benefits
Benefits for IT and Security Operations Teams
About ExtraHop
Integration Benefits
ExtraHop Reveal(X) network detection and response for the enterprise works with Garland to help SecOps teams detect, investigate, and respond to threats in just a few clicks for IT operations. Security Ops teams gain fast, accurate answers about the security performance for the hybrid enterprise.