Expecting a PDF?
We created this solution brief as a web page for better mobile optimization and accessibility. If you'd still like a PDF version of this use case, you can download it here:
Maximum Performance and Powerful Packet Level Visibility For Connectivity Across Your OT and IT Environments
Smart devices are automating business operations, bringing unprecedented growth and diversity to enterprise networks. This business transformation is accelerating connectivity across OT, IT, and IoT environments, creating new data flows between campus connected IT devices, cloud-based applications, and OT systems.
As organizations struggle to keep pace with cybersecurity standards in a new digital world, convergence puts new demands on CIOs and CISOs who are tasked with protecting the entire business ecosystem. Increased connected IoT or smart devices cannot tolerate agents or active scanning as traditional IT devices can. Without a strong foundation of network visibility and control across all device types, multiple cyber and operational threat vectors will persist. This could ultimately produce catastrophic damage for organizations before IT and security operations managers realize what happened.
Forescout and Garland Technology effectively eliminate data blind spots and actively defends against non-compliance for all
connected devices enterprise-wide. The passive detection capabilities and efficient use of network resources also protect the
integrity of business operations without impacting performance. Forescout's policy engine further reduces risk by automatically
mitigating threats and facilitating targeted remediation workflows with context-aware policy-driven network and host actions.
The joint solution fosters rich enterprise-wide device and network intelligence without impacting network or device performance.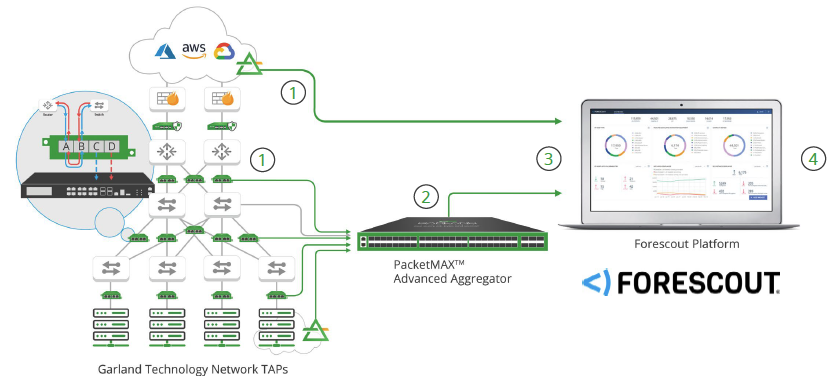 Intelligent network visibility starts with using physical and virtual TAPs to copy full-duplex traffic from any IT and/or OT network at each layer and site. Garland's network TAPs help overcome limitations that occur when switched port analyzer (SPAN) ports are used.
To optimize the network, the tapped traffic from each station is delivered to Garland Technology's PacketMAX™ for aggregation, load-balancing, and filtering.
Forescout processes the optimized data provided by Garland Technology for continuous device discovery, classification,
and assessment.
Forescout leverages the real-time data to automatically enforce policies with context-aware policy-driven actions that range from
email notice to isolating or blocking a compromised device from accessing the network, assigning devices to correct VLAN, tagging devices for firewall rule enforcement, and/or initiating remediation workflows.
Efficiently manage the security posture and lifecycle of all connected devices.
Maintain a complete real-time asset inventory with full device fingerprinting.
Reduce risk with continuous insight and policy enforcement.
Accelerate the remediation of non-compliant and compromised devices with automated policy-driven workflows.
Passive detection that does not disrupt business processes.
Increase overall network and business protection.
Easy configuration and deployment improves reliability and reduces costs.
100% network visibility with full-duplex copies of network traffic.
No dropped packets while passing physical errors and supporting jumbo frames.
Provide secure visibility with data diode functionality without adding latency.
Network TAPs do not have an IP address, or MAC address, and cannot be hacked.
Patented deep packet inspection (DPI) of 130+ protocols down to process values.
Auto-classify traditional IT, IoT, and OT devices using a multi-dimensional classification technology to identify device function, type, operating system (including version), vendor, model, and more.
Illuminate blind spots that periodic scanning tools miss with on-connect device inventory and continuous monitoring.
Increasing network defense and operational productivity with automated context-aware policy-driven actions.
About Forescout Technologies, Inc.
Forescout is the leader in Enterprise of Things security, offering a holistic platform that continuously identifies, segments, and enforces compliance of every connected thing across your heterogeneous network. The Forescout platform deploys quickly on your existing infrastructure – without requiring agents, upgrades, or 802.1X authentication. Visit forescout.com to learn how Forescout provides active defense for the Enterprise of Things.

Garland Technology and Forescout provide packet-level insights for real-time data analysis. Looking to add this solution, but not sure where to start? Join us for a brief network Design-IT Demo or consultation. No obligation - it's what we love to do.