Expecting a PDF?
We created this solution brief as a web page for better mobile optimization and accessibility. If you'd still like a PDF version of this use case, you can download it here:
Visibility by Design for Application/Network Performance Monitoring and Security
The LiveAction and Garland joint solution works hand in hand to provide deep visibility into every bit and byte level in any Enterprise or Data Center network. Garland Technology's EdgeLens® Bypass Tap and In-line Security Packet Broker System connected to an active, inline appliance provides a complete copy of network data to LiveAction's tools such as LiveCapture and LiveWire. Using the LiveAction LiveNX and Omnipeek® applications, IT and network operations personnel can then connect to the data from anywhere, anytime, and perform real-time monitoring and real-time/delayed analysis of application and network behavior. The result is improved application performance, enhanced customer experience and increased business continuity and security.
• Increased Network Traffic driven by digital transformation, mobility, and new business applications.
• Application Performance due to distributed enterprise, scattered data and flexible work force.
• Delayed Resolutions due to reduced visibility into critical application/network data, when/ where needed.
• Full Network Visibility leaves no blind spots for network investigation or security planning. Network data is monitored in realtime, and stored for a playback analysis.
• Simple to Deploy pre-certified solution makes it easy to deploy and manage in any kind of environment
• Easily Scalable Scales programmatically with virtual machines to millions of flows, multi-gigabit capture-to-disk rates, and multi-terabyte storage capacity.
Garland EdgeLens Solution
Network TAPs are hardware tools that allow access and monitoring of network traffic. Garland's offerings include a complete range of network TAPs from passive, listen-only Taps to active, inline TAPs to feed security tools; as well as hybrid bypass TAPs with packet broker functionality, supporting filtering, aggregating, and load balancing. Network Packet Brokers (NPB) are hardware devices that provide monitoring and security tools access to traffic from one to many network links. Garland's EdgeLens series is an advanced NPB that centralizes network traffic, making network tools function more efficiently by sharing network traffic with monitoring and security tools. Additional features, including filtering, aggregating, regenerating, and load balancing, are supported through a user-friendly interface.
EdgeLens provides visibility for a hybrid configuration of an active, in-line network device and off-line or "out-of-band" tools, such as LiveAction. EdgeLens provides identical network traffic streams through the active inline device and to the capture engine of LiveAction LiveWire or LiveCapture. The benefits of both devices seeing the same traffic are:
• Correlated data for real-time monitoring and root cause analysis using network packets
• Historical (before/after) look back and playback of the network traffic
• Validating and updating network policy changes and spotting anomalies
• Network data recording for compliance and security forensics
• Root cause analysis for application and network related problems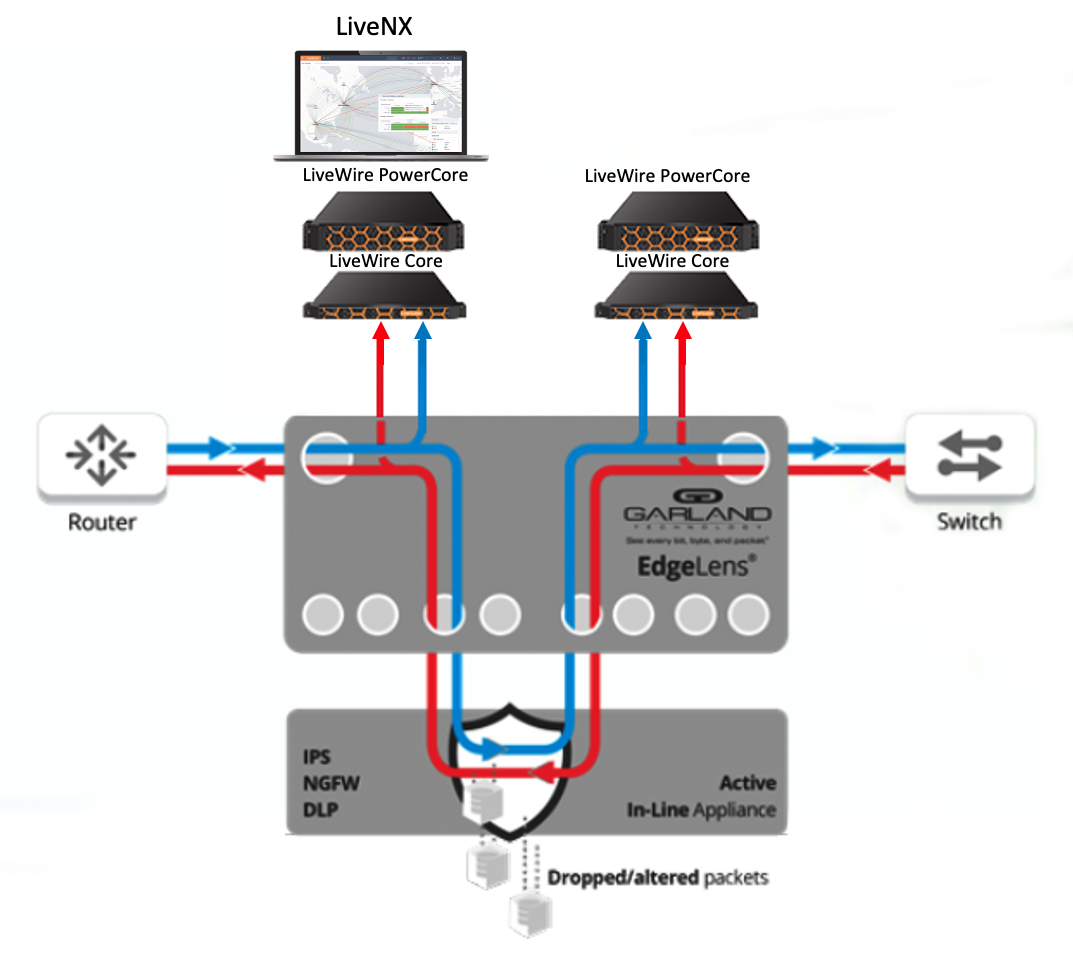 • Business Continuity through proactive, end-to-end network visibility, security and rapid application issue resolution.
• Policy Compliance through application-level control and application/network data recording and playback.
• Robust Security through network forensics and event correlation for before, during and after an alert or event.
LiveAction Application/Network Performance Monitoring and Analysis
Data traffic relayed by Garland TAP and NPB is put to real use when LiveAction LiveWire and LiveAction LiveNX process it through advanced data analysis algorithms. At the same time, LiveAction tools capture and store critical network flow/packet data for analysis/playback and root cause analysis using LiveAction LiveCapture, LiveAction LiveCapture Virtual and LiveAction LiveWire series appliances. The result is actionable analysis and visualization of key network performance metrics such as worst application/ user flows, application latency, TCP quality, unified communication quality, top applications, dependency mapping, network utilization and multi-segment analysis. Such analysis enables enterprises to resolve application/network performance issues quickly (operational continuity, higher productivity, better customer experience), perform capacity planning for future growth, and close security loopholes (traffic profiling).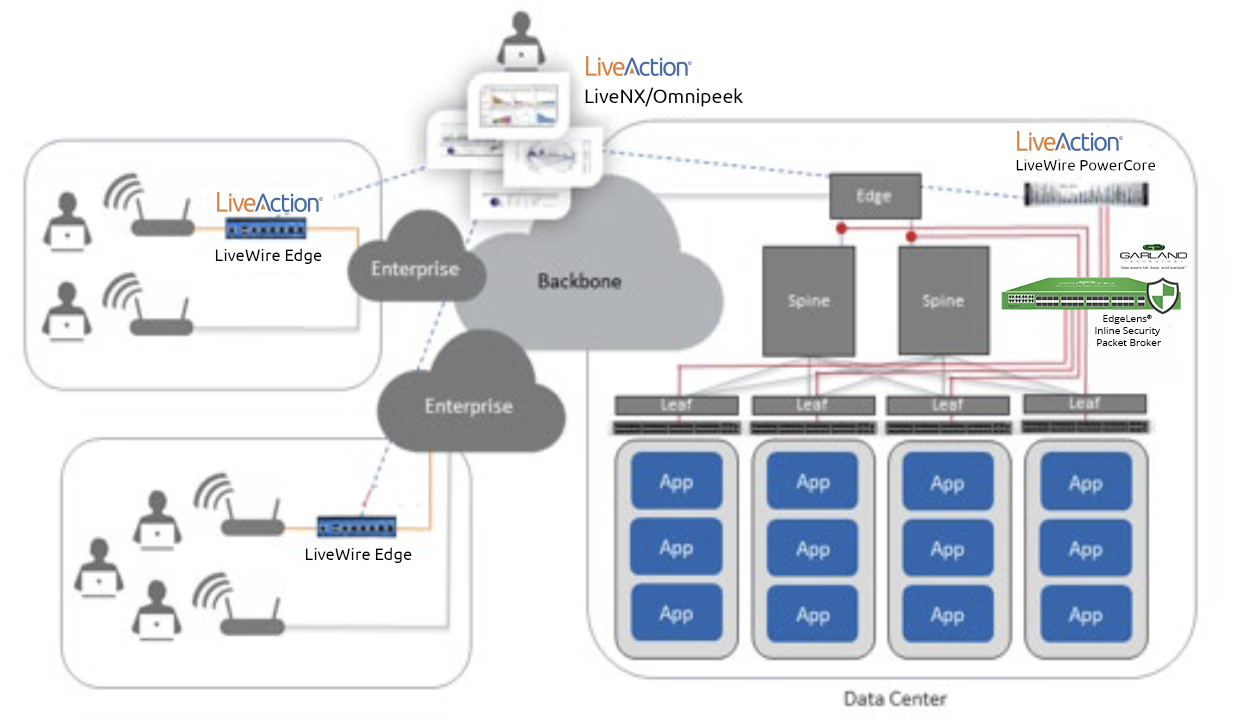 LiveAction provides end-to-end visibility of network and application performance from a single pane of glass. Enterprises have confidence that the network is meeting business objectives. IT administrators have better decision-making visibility and this reduces costs. By unifying and simplifying the collection, correlation and presentation of application and network data, LiveAction empowers network professionals to proactively and quickly identify, troubleshoot and resolve issues across increasingly large and complex networks. To learn more and see how LiveAction delivers unmatched network visibility, visit www.liveaction.com.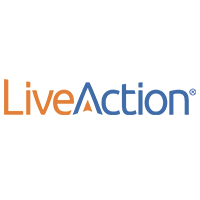 Garland Technology and LiveAction provides a continuous application and network performance monitoring solution. Looking to add this solution, but not sure where to start? Join us for a brief network Design-IT Demo or consultation. No obligation - it's what we love to do.