Gearbit has pioneered the "Think Like a Packet" approach to IT performance analysis – a methodology that offers tremendous advantages when hunting down the root cause of the complex issues that plague enterprise network, data center and application performance.
Companies choose Gearbit because they can see things that others cannot – the "Think Like a Packet" idea isn't just marketing speak. The networking and IT experts at Gearbit have spent years studying how packets change as they travel through the network and what those changes actually say about the environment as a whole. In truth, every network element leaves a mark on the traffic that that passes through it. By analyzing network traffic at the packet level, Gearbit reads those marks to help companies resolve longstanding performance issues and optimize operations as a whole.
"A change in one bit inside a packet can tell us a lot about the problem and what is going on with systems. When we collect data from different points in the network, and compare the "before and after" pictures, we can quickly determine the source of the problem and provide customers with both quick fix and long term recommendations," said Ray Tompkins, CEO and founder of Gearbit.
Root Cause Analysis is Critical to Finding the Right Fix
Being able to pinpoint the true source of the problem is critical in the troubleshooting business. Most times companies try to solve IT issues by throwing bandwidth, servers, storage or other resources at the problem. Not only is this expensive, it doesn't always fully resolve the issue. For instance, it's not going to eliminate data center latency issues because the load balancing algorithm is misappropriating data to one of its thirty servers. Only with rigorous adherence to root cause analysis can companies cost-effectively direct IT improvements.
To make the process easier for network administrator's worldwide, Gearbit offers a series of newly developed software tools that can expose issues at all seven networking layers. Gearbit products yield high speed search capability and automation producing packet-level intelligence needed to solve complex issues in traditional IT infrastructure and data centers as well as those originating with private, managed, and public -cloud environments.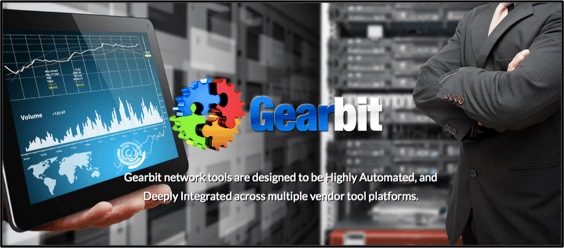 Visibility Speeds Time to Resolution
Of course the effectiveness of protocol analysis hinges on the ability to collect and see all the packets – and all the bits within those packets – at critical points in the network. For Gearbit, that means using a Garland network TAP for connectivity as it ensures 100% access to the network traffic stream. They are able to draw data from all seven layers without the interference that comes with connecting a network analyzer to a switch or other network element.
Along with protocol analyzers, Gearbit regularly provides onsite troubleshooting services for clients with difficult issues. In companies with existing network access points, it takes just an hour to begin the diagnostics process – in companies without a network TAP, it can take days before the work can begin.
"The first thing we do when we open a wiring closet is look for a network TAP to plug into," remarked Ray. "If a company doesn't have an existing network access point, we have to starting petitioning the IT group for a connectivity solution. There's usually a lot of paperwork and delays in the approval process. Sometimes, we sit around for days just waiting to get connected."
Once the protocol analyzer is online, Gearbit can dig into network traffic data to quickly uncover the source of almost any problem.
"The team at Gearbit is so experienced that they can often discover root cause in under an hour, even for issues that IT groups have spent months trying to resolve," said Chris Bihary, CEO and Co-Founder of Garland Technologies "They can find the proverbial needle in even the most complex haystack."
Strategic Placement of Network Access Points
For companies that want to analyze network packets – and every piece of data they include – to speed troubleshooting and infrastructure optimization work, Gearbit recommends that they create network access points in places that are most meaningful to their operations. If you're biggest concern is eCommerce uptime, place your network TAPs before and after your webservers. If you're worried about latency issues in data access, install TAPs in front of applications servers. As companies narrow down the network segments under review through the strategic placement of network TAPs, they can speed troubleshooting work and quickly pinpoint the source of the issues that cause long-term enterprise disruption.
"Garland is a great partner for us," said Ray. "Their management team and ours have similar backgrounds and visions for how communications should work. In fact, we all came of age in this business starting out with less complex networks and we've seen how the technology has evolved to enable data centers, virtualization and cloud environments. We know how to spot problems and Garland understand how to help us see them as quickly and easily as possible."
Want to learn more about the many network tools that help you manage your network? Download What Your Network Is Missing: 7 Tools To TAP