VMWARE and virtual machines in general should be a very important part of your tool kit. Virtual environments allow you to better familiarize yourself with different operating systems or test without affecting your real environment or equipment. Applications such as GNS3, Packet Tracer are great network simulators and VMWARE and VBOX are examples of computer operating system emulators.

I thought I would share what I figured out when working with VMWARE workstation and Microsoft Windows guest operating system.

After installing Windows 7, I realized that I could not drag and drop files into that virtual environment. This is a major issue since dragging and dropping files to a guest operating system is the most efficient way to work.


What's the Problem?
The way to typically fix this is to install VMWARE tools but then I noticed that I could not install the VMWARE tools and the option was greyed out.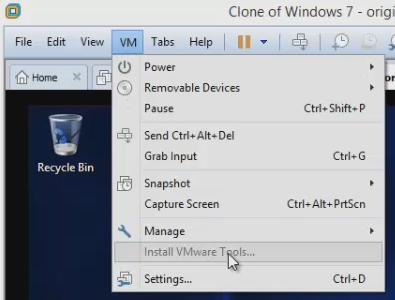 Never had this happen before so I was confused and getting frustrated.

I searched online and most suggestions were to reinstall VMWARE, which didn't work for me. To sum it up, I couldn't find a solution for my specific problem. I did run across a vague article suggesting I ensure that my floppy and CD virtual machine settings were correct, which they were. Out of curiosity, I started playing around with the different floppy options and found that changing it to "Use Physical Drive" and "Autoconnect" fixed my problem.
Here's the Fix:
Check out this solution in this quick fix video, I hope it helps you out:
Looking to add visibility to your cloud deployment, but not sure where to start? Join us for a brief network Design-IT consultation or demo. No obligation - it's what we love to do!