In increasingly complex networking environments, it is important to choose solutions that can automatically resolve transmission issues at the hardware level.
This is particularly true when you're inserting security and monitoring devices into live networks. Any incompatibilities in transmission protocols could slow communications or prevent devices from performing properly.


Link Speed Synchronization is included on Garland's copper network TAPs to allow the TAP to automatically negotiate issues to ensure the best possible rate of transmission between copper-based network traffic streams and all connected devices.
Minimizing Transmission Issues
From a technical perspective, Garland's Link Speed Synchronization feature takes auto-negotiation to the next level. With auto-negotiation, two devices advertise all their communication parameters (port speed and duplex state) so they can automatically connect at the highest common denominator. That means that a switch advertising 10/100/1000 full duplex and a router advertising 10/100 full duplex will communicate at 100 Mbps at full duplex.

This method may be fine for ensuring smooth communications between switches and routers, however, no self-respecting network engineer would drop "extraneous" security or monitoring devices into a live environment without using a network TAP. Without them, companies risk:
Full network shutdowns when inline devices malfunction

Devices not seeing 100% of the network traffic

Longer resolution rates during troubleshooting activities

For these implementations, the Garland aggregation, bypass and breakout network TAPs handle the negotiations for the devices. If Link Speed Synchronization is turned on the TAP will interrogate the two devices connected to its network ports and will set the TAP ports to run at the same speed as if the two devices were connected together. In the example we previously discussed the router and switch connected at 100 Mbps full duplex when directly connected together.
If you place the Garland TAP between these two devices they still will link at 100 Mbps since the TAP is smart and knows the highest speed the switch and router would select if they were connected to one another.
The TAP uses the auto-negotiation function to interrogate both attached devices to find out their individual capabilities. The Garland TAP keeps a table of the data and automatically determines the best transmission rates for each connection. Let's say in our example someone logged into the router and changed it from advertising 10/100 full duplex to 10/100/1000 full duplex. Once that is done the Garland TAP's Link Speed Synchronization function will ensure that the transmissions happen at 1000 Mbps at full duplex – all without manual intervention.

Note: This means that the router and switch will both now be running at 1000 Mbps. No need to login to the TAP to do anything.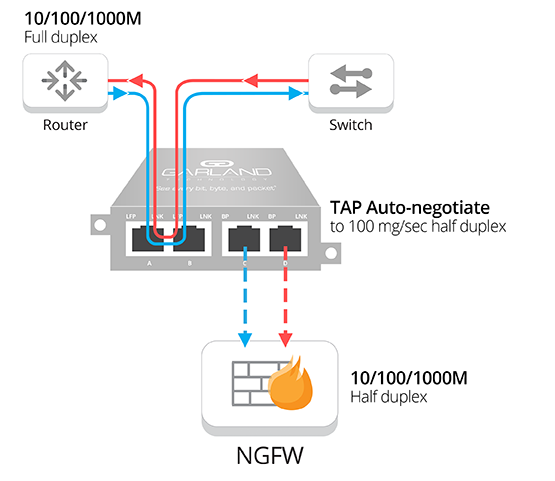 Why Look for Link Speed Synchronization?
Let's face it, companies are continuously upgrading networking equipment as companies grow, adding new monitoring tools to optimize performance and expanding security programs to address new threats. This work is difficult enough without having to worry about manually checking and setting transmission rates for each individual network to device connection. With Link Speed Synchronization, network engineers can rest assured that communications will be maximized across the environment, regardless of how often individual components change.

By reducing complexity and automatically resolving issues at the hardware level, organizations can quickly and efficiently evolve their networks and their extended systems.

Looking to add copper TAPs to your next deployment, but not sure where to start? Join us for a brief network Design-IT consultation or demo. No obligation - it's what we love to do!