As network speeds increase, the means to support these speeds change. For example, when multimode fiber speeds increased from 10Gbps to 40Gpbs, the SFP+ transceiver had to be upgraded to the QSFP+ transceiver. In addition, the cabling required also changed: the LC fiber cables that worked with SFP+ SR transceivers no longer work with QSFP+SR4 that need MTP/MPO cabling. To a customer looking to upgrade their network, this upgrade to 40G meant an entire rip-and-replace of their multimode cabling.

To avoid these expensive cabling upgrades, a means to get 40Gbps throughput across existing LC cabling was developed: Bidirectional (BiDi) transceivers.
BiDi Transceivers

By using two different wavelengths, each strand of fiber in a LC cable was able to both send and receive traffic at a rate of 20Gbps. While equipment upgrades that supported open QSFP+ cages and new BiDi transceivers were still required, existing cabling infrastructure could be used.




If you're still at 10Gbps speeds within your network today, BiDi is a potential means to move to, but other upgrade methods that make use of existing infrastructure can also be considered.


SWDM Transceivers
Transceivers that use Short Wavelength Division Multiplexing (SWDM) make use of four wavelengths at once. Instead of having each strand of fiber both sending and receiving traffic, the four wavelengths are unidirectional, either transmitting or receiving traffic.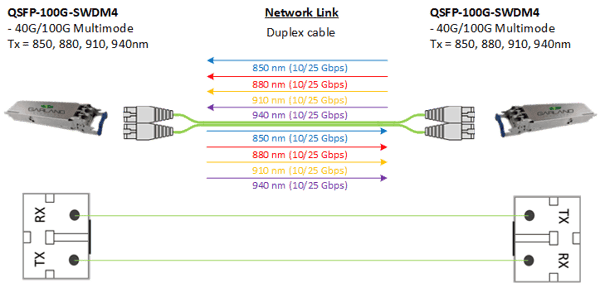 Each wavelength transmits at either 10Gbps or 25Gbps, allowing for 40 to 100 Gbps speeds. The networking appliances will still need QSFP+ transceivers, but the existing LC cabling can again be left in place.
SFP28 - 25 Gbps:
In a lot of cases, the jump to 40Gbps may be completely overkill for the needs of the network. Instead, 25 Gbps using SFP28 transceivers could be a much better fit for a customer. Contrary to BiDi and SWDM, SFP28 uses the SFP+ form factor instead of the QSFP+, allowing it to fit in the considerably smaller SFP+ cage. Now this doesn't mean you can shove an SFP28 transceiver into an SFP+ cage and expect 25Gbps. The appropriate networking devices would need to be purchased that support SFP28 ports, but the good news is you will often get much high port density of SFP28 than you will with the QSFP+ form factor.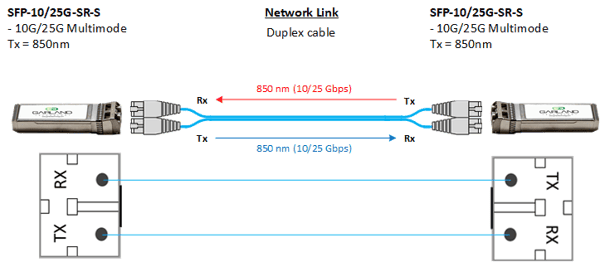 Even though 25 Gbps is slower than 40Gbps, SFP28 does provide other benefits in addition to density: backwards compatibility. The SFP28 can connect to existing 10Gbps SFP+SR transceivers by throttling itself down to the 10Gbps line rate.
Final Considerations
Making use of existing cabling infrastructure can save considerable amounts of money and installation costs, but putting higher speeds over older cabling does come at a cost: distance. Moving to higher speeds in this manner will work perfectly when devices are close together, but may experience issues when trying to link over 100 meters. The quality of the fiber cable in place will determine how far these links will be able to go. OM3 will be supported but will offer the shortest link distances. As speeds continue to increase, an upgrade to OM4 or the latest OM5 may eventually be required.

Looking to add BiDi to your next deployment, but not sure where to start? Join us for a brief network Design-IT consultation or demo. No obligation - it's what we love to do!