With the launch of Garland Technology's new FieldTAP, one of the perks I can boast about is getting to test and use new technology. Especially working remotely, I was excited to have such a versatile TAP to add to my gear. With the new circumstance we all find ourselves in, this came in handy as we are finding an influx of remote performance issues around the industry and the need to quickly solve any issues.

Debugging and troubleshooting performance and operational issues in a Wi-Fi Access Point or VoIP phone deployment often involves taking packet captures of the device's network traffic using Wireshark.


A SPAN port on a switch is often used to connect a laptop computer or PC to perform the Wireshark packet capture. But obtaining access and or control to configure a SPAN port on a switch can present challenges. LAN switches may not be accessible as they are in secure locations, knowledge to make the SPAN port configuration might not be in-house or available, and switch login credentials might not be known, all leading to delayed problem resolution and disconnected users.

Garland introduced the FieldTAP product line to simplify the process of collecting Wireshark PCAP files and eliminate the complexity and need to configure switch SPAN ports. The Garland FieldTAP connects directly to the end device such as a Wi-Fi Access Point or VoIP phones allowing instant access to the needed packet level data to immediately start debugging leading to improved problem resolution and response time.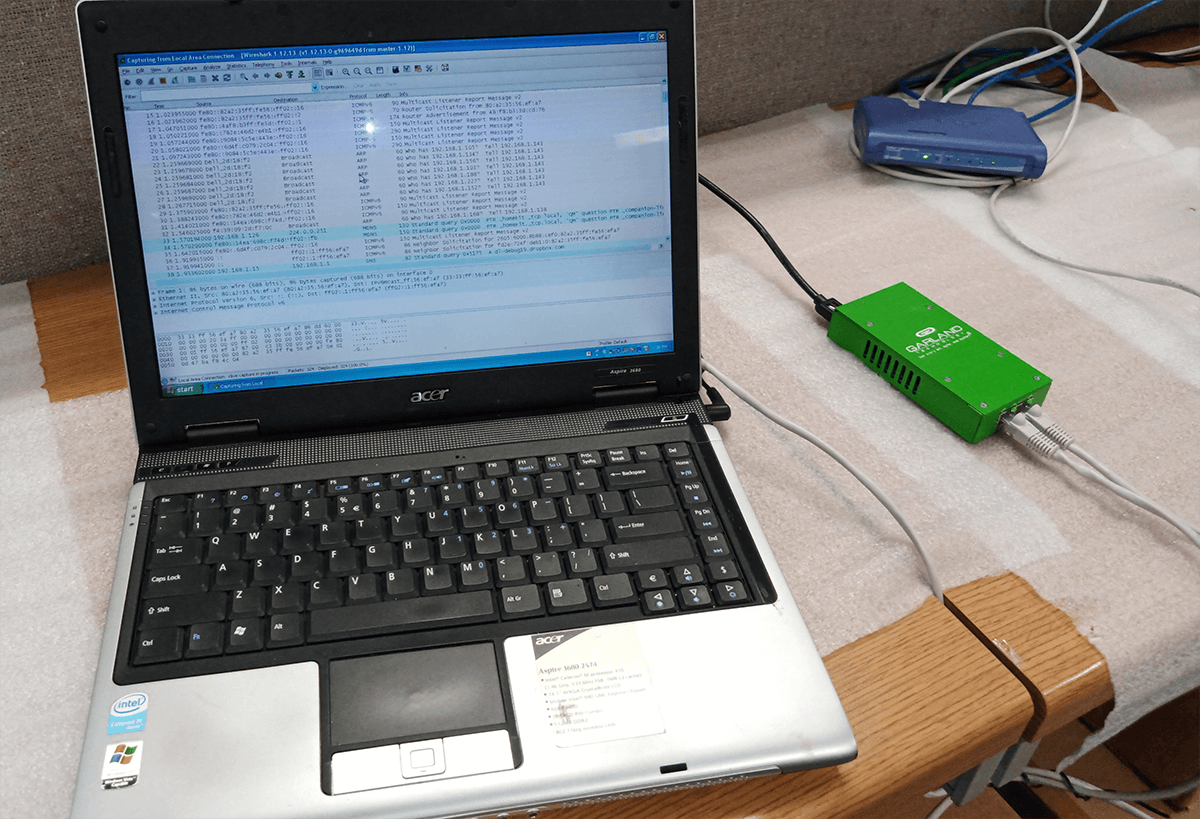 The new FieldTAP was specifically designed with a network engineer, network administrator, system
administrator, system engineer, network analyst, cybersecurity network defense specialist, NOC engineer, NOC analyst, or cable installer/tech in mind. This pocket sized portable TAP, which is a little bit larger than a credit card, is the eyes and ears to network analytics on the fly, anywhere, compatible with most computer OS's, Windows 8+, Windows 10, Linux, Android, and MACs.

This was not designed not as a permanent TAP solution of course, but as a quick laptop or tablet solution with it's USB 3.0 connection, easily enabling network aggregation without packet loss on the go. With no power supply needed, and it's rugged steel casing, this TAP has quickly become a go-to item for troubleshooting flyaway kits.


Applications and Tools to Get the Most Out of the FieldTAP
Ideal applications for this are used in test labs, Network operations center (NOC), retail stores, medical hospital IoT networks, government, military, financial, media, cable network testing, wireless AP network testing, any virtual environment such as VMware environments, VOIP networks, network pen tests, and more.

You don't lose the network card your laptop has as it's plugged into the USB port, so you can use the network card to stay connected to your local network. This will allow you to copy PCAP files you're capturing and store them elsewhere. Copy full duplex lossless link aggregation at speeds up to 5 Gbps, with no issue of collecting, no congestion of the flow of data, and of course no dropping frames.

Works with all of the latest network tools like Wireshark, Suricata, nTop, Molach, KALI, Microsoft Netmon, and more.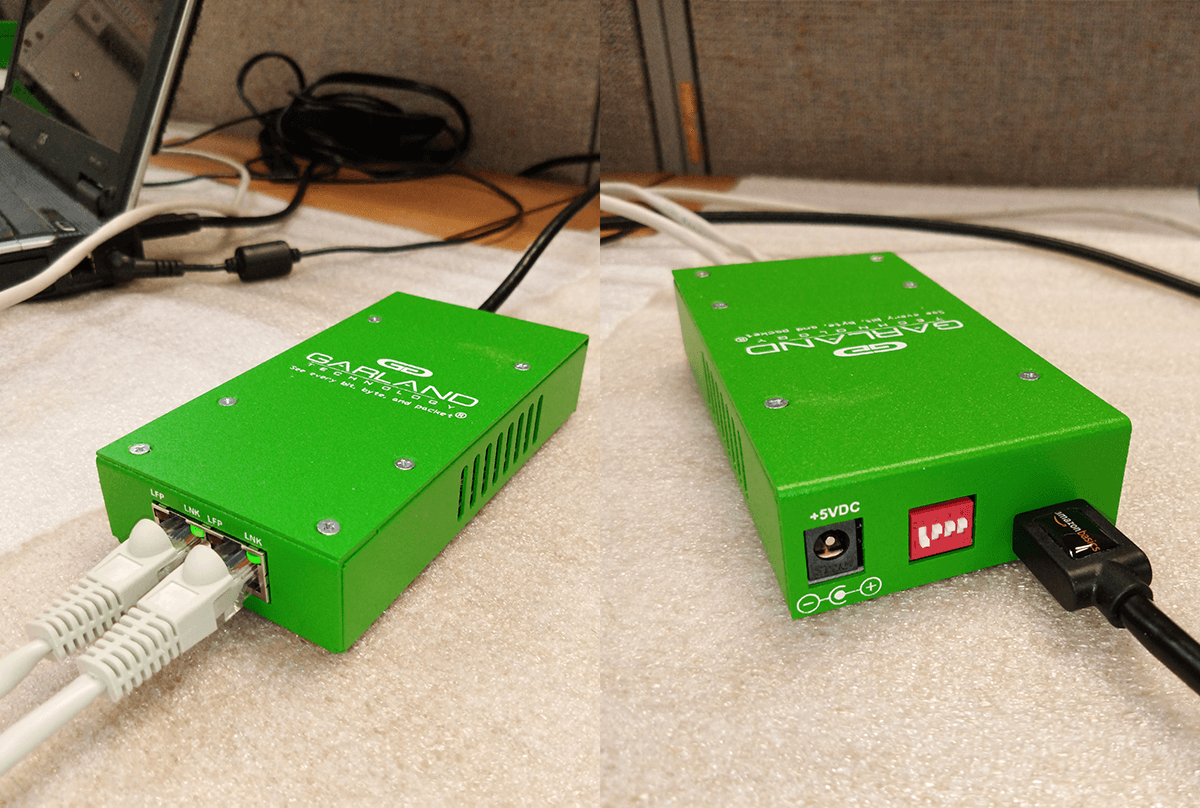 Using the FieldTAP for Debugging WiFi Access Points and Accessing VoIP
Two commonly used tools in debugging WiFi Access Point deployments are Microsoft Netmon and Wireshark. Wireshark provides visibility into packet level data such at Layer 2 Ethernet headers and Layer 3 IP datagrams. Netmon goes a step further and can provide information related to WiFi connections.


The benefits for this use case includes:
Collects data at the source
Quick problem resolution
Pocket sized 1"x2.6"x5.1"
USB powered or via external 5V supply.
Low power (4 Watts)
Voice over IP (VoIP) has quickly replaced legacy circuit switched PSTN telephony which delivered consistently high voice quality. VoIP telephony is subject to latency, jitter, and packet loss which can all lead to poor voice quality.


The benefits of this use case includes:
Capture SIP and RTP VoIP packets in real time.
Identify jitter, latency, and packet loss issues.
Captures all packet data at the source.
Passes PoE (Power over Ethernet).
Plug and Play


Having hands-on experience with this portable, miniature tap has opened up a whole new point of view for me as a solutions engineer and self-described network geek. Being able to easily test, analyze, and have resourceful ways to simply TAP into any segment, VOIP, VMware, Wireless APs in our office will really help me address and optimize any performance issues we may face in the coming months.

Try a FieldTAP for yourself or your team. Have a unique environment that needs visibility, but are having connectivity or architecture issues? Book a brief Design-IT Demo with our engineering team today and we'll work it out together. No obligation - it's what we love to do.