We are now living in a world of digital business. Digital technology is a top priority for business leaders, and investing in digital initiatives will continue to grow at an aggressive pace, doubling within three years. Although Digital Transformation is here, most companies do not effectively manage this digital experience.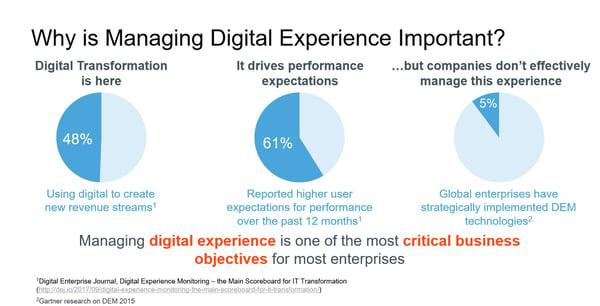 How does enterprise IT deal with the complexity of managing Digital Experience? Traditionally, IT deployed multiple monitoring tools to monitor each domain. One or more tools to monitor the network, infrastructure, the application, the servers, etc. In this approach you end up with several disjointed tools each separately monitoring each domain, often showing no issues, while the end users still complain of poor application performance. The result is typically a finger pointing situation where each domain lead will claim that their respective area is not causing the issue while the problem remains unresolved.

This approach is ineffective as point solutions are not designed to talk to each other and while they are adequate at monitoring one specific domain, they were never designed to look at the whole system collectively. To quickly identify the root cause of an issue, you need the ability to link several detected events that may not individually identify the problem but collectively point to the cause of the poor performance of the Digital Experience.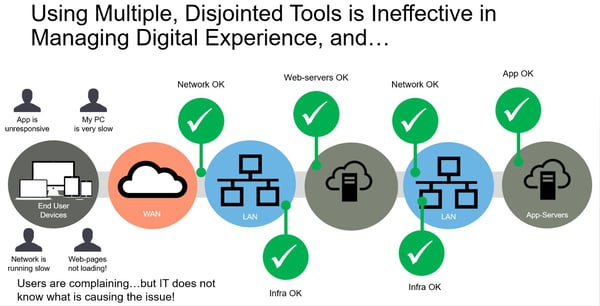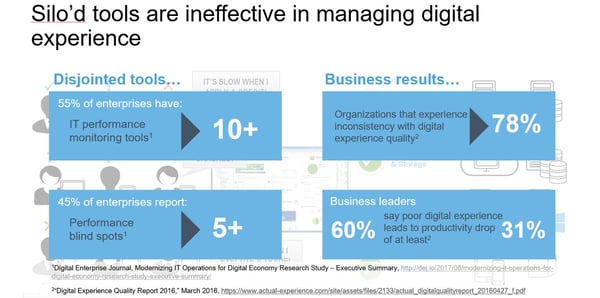 Riverbed® SteelCentral™ is a platform that delivers a complete, modular and integrated Digital Experience Management. Riverbed SteelCentral provides comprehensive monitoring of end-user devices, applications, networks and infrastructure. You can think about SteelCentral as the command center for Digital Experience monitoring that provides broad instrumentation and big data analytics to help holistically manage performance across the hybrid enterprise and manage the digital experience of all users.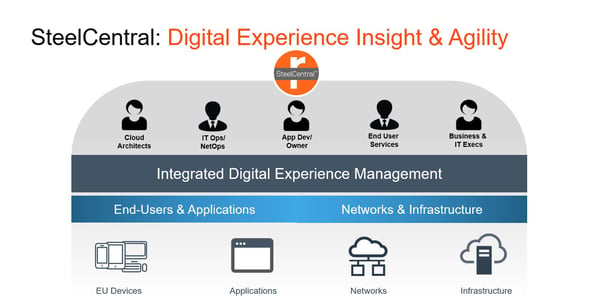 Garland Technology provides complete Network Access and Visibility for Riverbed SteelCentral Digital Experience Management platform, through the collection and sending of 100% of the live wire data, while allowing for real-time analysis on data flow, transactions and sessions. The Riverbed and Garland Technology joint solution enables end-to-end visibility to detect and resolve network, application and security performance issues quickly, and improve service performance.


TAP Your Riverbed SteelCentral

Riverbed SteelCentral network performance monitoring (NPM) solutions provide a complete picture of the health and performance of your network, but monitoring solutions are only as good as the information they receive. Garland Technology's Network TAPs, Advanced Aggregators and Network Packet Brokers are purpose-built appliances that provide the passive access to data that SteelCentral NPM depends on.

A TAP can fit within any segment of the network and push an exact copy of live network traffic to out-of-band tools in the management network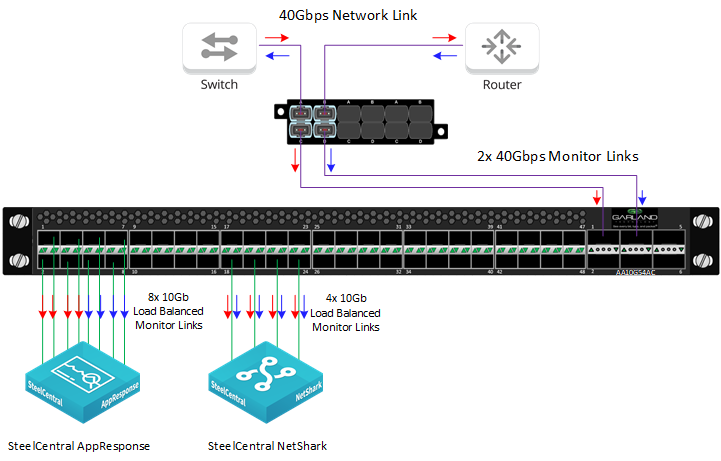 In the network drawing above, you can see how the appliances with 10Gb ports can obtain monitor streams from a 40Gb network link, through the use of Garland Technology passive fiber TAPs feeding traffic to the open QSFP+ ports on the 10G Advanced Aggregator. Load balancing and filtering can be used to ensure that the correct network traffic flows to both the SteelCentral AppResponse and SteelCentral NetShark.

[Want to learn more about the Garland Technology and Riverbed partnership? Check out the Riverbed technology partner page for an overview of the current joint solutions.]