So what does this mean to you? Well, when you are considering a connectivity strategy for your active, in-line appliances or security monitoring tools, it demonstrates that Garland's network TAPs were tested and validated with live data and performed to Cisco's standards.
What standards were tested? Interoperability, health check/failsafe check, full packet capture and zero packet loss.
Why should you care? Read on.
What's Your Connectivity Strategy?
Enterprise networking has many layers, but it all starts at the foundation: Layer 1; aka the physical layer. Whether you are considering a new NGIPS deployment or you are passively monitoring with forensics, application or network performance - you need to see all the data, all the time.
NGIPS deployments rarely live in a silo, they live in a stack - and often that stack includes additional active, in-line appliances that need to share the same packets. Garland Technology's network bypass TAPs are a Cisco Certified connectivity solution, as well as an approved solution for many other active, in-line appliance manufacturer's.
As a Cisco Solutions Partner, Garland features 11 common use cases for a variety of network scenarios including: high availability, media conversion, high density data center solutions for both copper and fiber networks, packet brokers to filter, aggregate and load balance, and hybrid bypass taps with packet brokers to manage multiple, active, in-line and passive monitoring tools.
Create a Foundation of Visibility
Deploy network TAPs strategically in your enterprise network.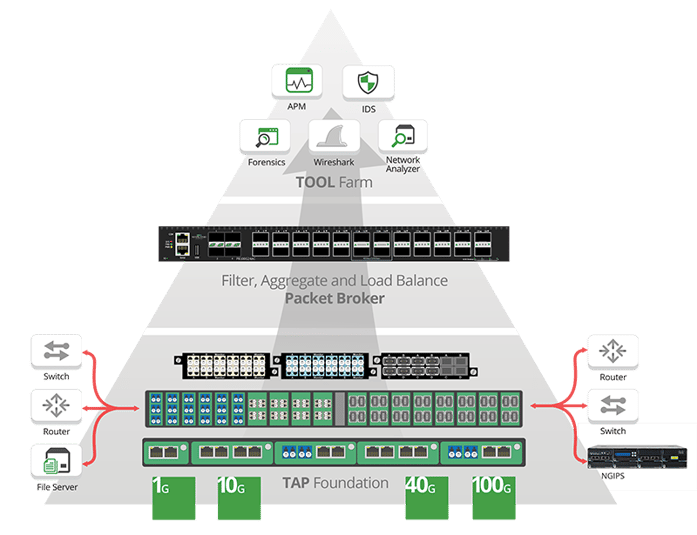 Let's return to the question, "Why should you care?" By partnering with a certified solution provider you save time by reducing or eliminating preliminary research/compatibility and proof of concept. Garland is the only network TAP vendor to hold the Cisco Compatible distinction which demonstrates our committment to the Cisco partnership and to manufacturing quality products with zero tolerance to failure.
Visit the Cisco technology partner page to learn more about the joint solutions. Have a project that you need to a connectivity strategy? Reach out to our network design team.