It's easy to get ahead of ourselves when we talk about the Industrial Ethernet. You look at the ever-growing reality of the Industrial Internet of Things and the longstanding concerns for security in these networks and you start to take this level of connectivity for granted.

However, so many companies are only just starting their Industrial Ethernet journeys. As you upgrade your network, choosing the right cabling will be critical to ensure you don't disrupt traffic in the process.

Choosing cables for standard office settings can be hard enough—but when you're upgrading to Ethernet in an industrial setting, keep these 6 points in mind.


1. Data Rate Demands in Your Network
If you're starting from scratch on Industrial Ethernet and you're upgrading from a legacy T1 copper network, you might not be planning for massive capacity.

Your networking needs could be 100M Ethernet all the way through 1G, 10G and beyond. This is the point where you weigh your fiber/copper options and consider various cable categories (Cat 5e for 100M or 1G, up to Cat 7 for 10G). If you're unsure about navigating all of the various cable abbreviations, check out this post on media conversions.


2. How Harsh is Your Environment?
In a standard IT network, you can choose cables based on business application needs. But when you're talking about a factory floor's OT network, the environment is everything.

Consider the level of vibration that cables will have to withstand. Will you keep cables protected in a specific control room? In this case you might not need to find such a flexible cable because vibration will be minimized.
However, if your cables are exposed to oil, moderate vibration, chemicals and more on the factory floor, you'll need a more durable option. And at the extreme end, any cables that exist on your machines will need the highest levels of flexibility due to increased corrosion and vibration.


3. The Right Jacket for the Right Situation
After considering your environment, you'll want to make a decision on the right jacket protection for the cables in your network. There are 4 main options to consider:
PVC: The jack-of-all-trades jacket works well for most situations at an affordable price.
Flame Retardant Non-Corrosive (FRNC): If fire is a key concern for your environment, paying a bit more for this jacket could be your best bet.
Thermoplastic Elastomer (TPE): This combination of plastic and rubber offers the best performance in cooling situations and also offers excellent flexibility. However, the higher performance comes at a higher price than FRNC or PVC.
Polyurethane (PUR): Extreme durability for high-abrasion situations or environments where cables are exposed to chemicals, oils and other solvents.


4. To Shield or Not to Shield
If you're unsure of the right choice between shielded and unshielded cables, unshielded is the easier choice because it works in most environments.

However, if you're expecting unusually high noise ratios in your environment and need cables that can withstand it, foil or braid shields can help you protect the integrity of network signals.


5. Twisting vs. Bonding Through Vibration
When you don't have to worry about vibration in your environment, solid conductors will work just fine. However, you face a choice between twisted or bonded-pair options when vibration challenges call for stranded conductors.

Twisted conductors might save you some money, but they are susceptible to damage during implementation and can cause greater challenges with network mismatching. Bonded-pair conductors are more suited for rigorous manufacturing environments.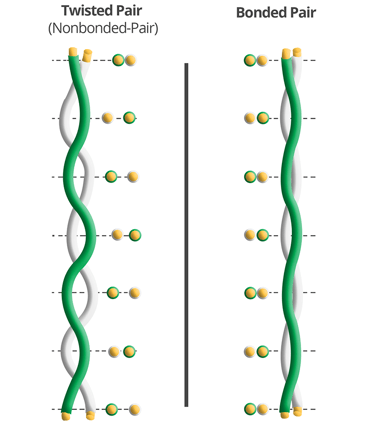 6. General Ruggedness Awareness
Many of your considerations come down to the ruggedness of specific cable choices. Regardless of the cables you assess for your environment, you need to understand performance in all of the following categories:
Abrasion
Cold blend
Cold impact
Crushing
Cut through
High temperatures
Oil resistance
UV exposure
Water immersion
If you take all of these points into consideration and decide on the right cables for your environment, you're on your way to implementing Industrial Ethernet. Your next step will be determining the best way to design a network that ensures guaranteed traffic, visibility, and security.

Looking to add a visibility solution to your industrial deployment, but not sure where to start? Join us for a brief network Design-IT consultation or demo. No obligation - it's what we love to do.