It goes without saying, but proper application monitoring is a critical component of sound network management. Let the following example show you:

Say you have two critical 10G links that you need to monitor with a few inline network tools. That sounds like a big problem because each inline appliance has the potential of introducing a point of failure. Then, there is also the problem of getting all the network traffic from each critical link to go to each individual inline appliance for processing.

Sounds like a scenario that could be difficult and expensive to implement. But it doesn't have to be. By using a Garland Technology Advanced Aggregator, you can increase the efficiency and port utilization of your network.


Connect your links to your bypass TAPs
Bypass TAPs provide several benefits to your network when connected to inline appliances, but the most importantly, they eliminate the possibility that the inline appliance could create a point of failure for your network.

Connect your bypass TAPs to the AA
The Bypass TAPs cannot be connected directly to the inline appliance for two reasons. FIrst because the network links are 10G and the appliances are 1G. And second, since you are trying to monitor two separate links, you would need two sets of monitoring tools to analyze the traffic.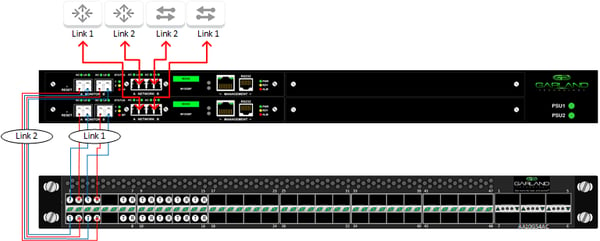 By using the Advanced Aggregator, we can avoid these issues, since the Advanced Aggregator is purpose built to provide flexibility for your network. Each port on the AA10G54AC can be configured to receive inbound network traffic or to transmit outbound monitoring traffic. The Advanced Aggregator can also be set to load balance the traffic across the 5 appliances, so that the ports on the individual appliances are not oversubscribed. Finally, the AA10G54AC can tag the packets, so that when the packet is returned, it will know what link to return it to. This capability eliminates the second problem, removing the need for two sets of application monitoring appliances.


Connect your appliances to the AA
Connect your appliances to the AA10G54AC using the appropriate cables and pluggables.
Configure the AA to load balance to your appliances
Program the AA10G54AC. It needs to be set up to load balance the traffic out to the monitoring appliances. Tag the packets so they can be returned to the proper link, and distribute the traffic out to the five 1G appliances. When the traffic is returned to the Advanced Aggregator after being processed by the application monitoring tools, it needs to remove the tags and return the packets to their proper 10G links.



Analyze your data
Now that you've connected the inline appliances without introducing any points of failure, you are ready to analyze your traffic. You can even take your appliances offline, should you need to perform updates to the software or firmware, without scheduling a maintenance window of network downtime.

[Ready to learn more about network monitoring? Download our new whitepaper, The Ultimate Guide to Network Monitoring to learn about building a better network for today and tomorrow.]