Data centers are being inundated with heavier workloads every day and network architects at large enterprises are forced to start planning a move to 40G or 100G network connectivity. The debate has raged on for years whether copper or fiber is the right approach for networking, but as bandwidth demands push toward 40G and 100G speeds, networks will start to require more fiber.
But there's one key challenge when upgrading to 40G and 100G speeds—choosing the right connectors.
Why MPO Connectors Are More Appropriate Than LC for 40G/100G Fiber
When density wasn't a major concern for network architects, multi-mode SC and LC connectors became the main way for fiber networks to connect. As space became a concern, LC connectors took the place of SC options because their 1.25 mm ferrules are half the size of those in SC connectors. LC connectors started to show signs of weakness when network architects had to find ways to densify their designs to support bandwidth-hungry applications. While LC connectors are heavily favored for single-mode fiber, multi-mode LC connectors cause problems because they only support one fiber per ferrule.
Because LC connectors only support one fiber, implementing a new cable for each fiber causes serious space restraints on growing data centers. Not to mention the fact that having so many cables can diminish airflow, which could have long-term effects on the data center.
For situations where density is a necessity, multi-mode MPO connectors have become the norm. With MPO connectors, networking professionals can pack 12, 24 or even 72 fibers into one ferrule; so instead of having 12, 24 or 72 separate LC cables, you can simplify the cabling infrastructure and cut down on install times with a single MPO connector. But that doesn't mean MPO connectors don't have their own limitations—namely optical loss as density increases.
Why MTP® Brand MPO Connectors Are Most Efficient for 40G/100G Fiber Networks
The key to connectivity with fiber cables is to get the fiber tips to touch on the female and male sides. Typically, an adapter acts as coarse alignment for male and female MPOs, leaving guide pins in the male ferrule to connect with bore holes in the female ferrule. However, as density increases it becomes more difficult to ensure connectivity.
Optical loss (measured in dB) is the key challenge to overcome when considering dense, multi-mode fiber connectivity for 40G and 100G networks. Any fiber tips that do not sync up increase dB loss, dropping packets and diminishing network visibility for any security and monitoring appliances. To address these challenges, US Conec developed the MTP® brand MPO connectors with key innovations that significantly reduce MPO db loss in high-density situations.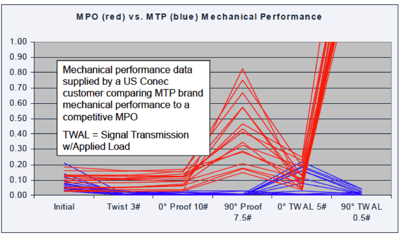 As you can see, MTP® brand connectors provide far better stability under applied-load situations that are so common in enterprise data centers. There are two key MTP® features that enable such low dB loss:
The Floating Ferrule: This is a proprietary design that improves the stability and performance by allowing the MT ferrule to remain in contact with another MT ferrule or with the fixed optical interfaces in the Tx/Rx while the connector rotates during side load. This design eliminates the potential for physical disconnection of fibers.
Patented Elliptical Guide Pins: Typical MPO guide pins are chamfered with sharp edges that damage female bore holes with as few as one mating. The damage can allow debris to enter into the optical interface connection and cause higher loss due to an air gap or a scratched ferrule end face. The MTP® guide pins are smoothed into an elliptical shape to keep bore holes clean, extending the connector life by eliminating debris and enabling higher durability cycles than required by telecommunications standards.

Multiple features, such as several ferrule grades, removable housing, recessed oval pin keepers, and a wide range of round cable size options, have also helped MTP® brand connectors become the premier choice for dense, multi-mode fiber connectivity. US Conec's MTP® connector has been around for 20 years, building volume inertia and history that prove that the MPO product (with enhanced key features) perform well in parallel optic cabling infrastructures. But if you want to maintain network visibility as you achieve 40G and 100G speeds with MTP® brand connectors, you'll need network TAPs capable of supporting these fiber cables.
Garland Technology TAPs Use MTP® Brand Connectors to Ensure Visibility
As Garland Technology started pushing network TAP innovation for greater 40G/100G networking support, it became clear that US Conec's MTP® brand connectors were an obvious choice to help customers ensure visibility. Not only are the MTP® brand connectors made in the United States like Garland's product line, but their innovative design features help ensure fiber connectivity and deliver every bit, byte and packet® to security and monitoring appliances.
Garland has developed 40G-SR4 and 100G-SR10 MTP fiber passive network TAPs to help companies ensure visibility when migrating their infrastructures to 40G/100G multi-mode. These network TAPs are built with female MTP® brand connectors to help network architects implement their dense cables more seamlessly.
If you want to learn more about the vast array of network connectivity options—and how to maintain visibility no matter what your network consists of—download the latest free Garland Technology white paper, Network Connectivity: A Go-To Guide.