Many customers that we talk to have more than one Internet connection at their facility. Referred to as a high availability (HA) scenario, this active/active or active/passive link setup ensures customers that when the primary link goes down (because it will fail at some point), traffic can automatically be forced to the secondary link.


The following graphic is a basic illustration of how link failure propagation works.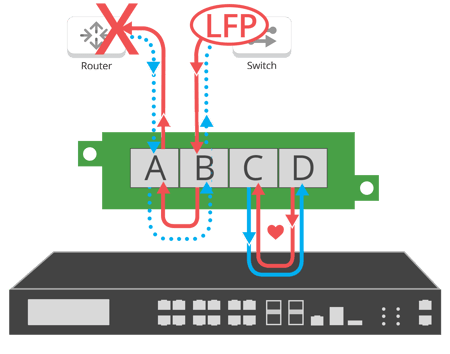 You have two options. Under traditional network designs, you would tell the CIO that you need to work with IT to build a new network access point in the problem area—which could take days. If you design your network with visibility in mind, you could have a network analyzer hooked up in an hour. When it comes to designing architectures for efficient network monitoring, it all comes down to visibility with network TAPs.
Link Failure Propagation in Copper Gigabit Environments
Link failure propagation (LFP) is essential for ensuring 100% network uptime when network elements fail. This feature is imperative in high availability situations with 1G copper network TAPs.

Copper gigabit networks differ because copper gigabit requires that each network port negotiate with the network TAP individually (i.e. the switch to the tap, the tap to the router).

Without LFP in a copper gigabit environment, if a network element link goes down, there's nothing to tell the corresponding network element that there's an issue. The functional network element continues to send packets and you start to lose visibility as a result.

Companies can't afford to suffer downtime on critical links that support in-line appliances. Link failure propagation ensures an instant switch to the secondary link to maintain 100% uptime while networking professionals go through troubleshooting processes.
LFP is Essential to All Network Designs
Some network TAPs are sold for copper gigabit environments without LFP. Without LFP, you run the risk of introducing costly points of failure in your network.

Link failure is inevitable and the LFP feature of Garland network TAPs gives you peace of mind when these issues occur. The network will keep running but the critical link will not. LFP is designed to shut down the link attached to the TAP if one side or the other fails. In a non-HA environment, the link is turned off by the TAP and it is up to diagnostic tools to alert the maintenance folks that there is a problem.

In a HA environment, shutting down the link causes the network (not the TAP) to force a failover to the backup network so the critical link can keep flowing. This is when you can troubleshoot on the primary network to figure out what went wrong. Bear in mind that it is the critical link that we want to keep flowing. The LFP function of a TAP shuts down the critical link. That is why the LFP feature is generally used in a HA environment.

Copper networks continue to play a vital role in today's networks and data centers and is the backbone of many existing enterprises. When selecting a TAP for a copper network, it's important to partner with a vendor that is investing R&D to support copper in the future.

Looking to add copper TAPs to your next deployment, but not sure where to start? Join us for a brief network Design-IT consultation or demo. No obligation - it's what we love to do!