When building a network, uptime and reliability are a major focus in the design of the network. To meet these reliability needs, redundant appliances and links are often put in place to provide high availability for the network. Network visibility is still important in redundant networks and a Network TAP will provide the best source of visibility. If your network consists of gigabit copper links, then it is important to ensure your TAP supports the redundant environment with Link Failure Propagation.


The best way to understand Link Failure Propagation (LFP) is to examine the deployment of a Copper Network TAP: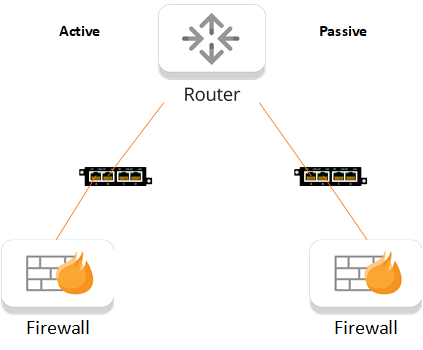 The copper network TAP fits between two network appliances. In this example, two TAPs are on a router's redundant links to two separate firewalls set in Active/Passive High Availability. If a firewall fails in this design, the redundant firewall will take over and ensure network traffic continues to be secured.

Looks good so far, but let's look at how the physical connections treat this situation: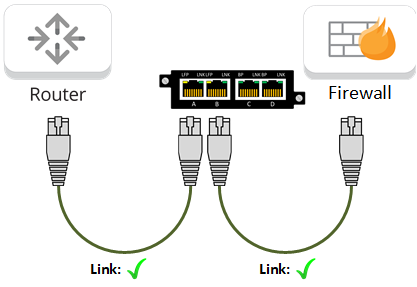 The RJ45 interface on the router and the RJ45 interface on the TAP each establish a link with each other at a physical (Layer 1) level. The same will also occur between the TAP and the firewall. These connections will each send electrical pulses to each other to make sure the connection is still active.


But what happens if the firewall fails and stops responding?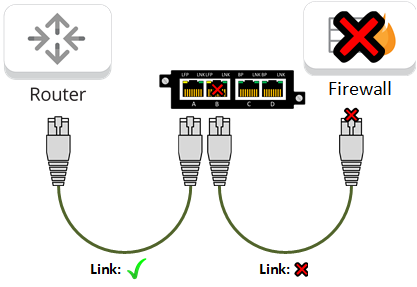 After two missed pulses and no traffic flowing, the RJ45 interface will determine that the link is down between the TAP and the firewall. However, the link between the TAP and the router is still going strong.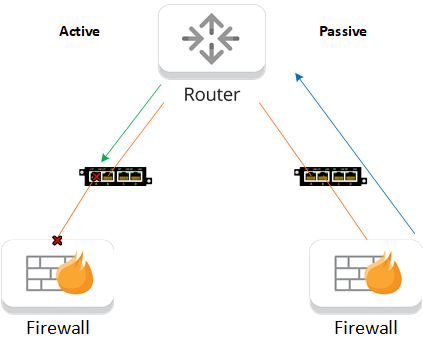 In an event like this, the redundant firewall will recognize the outage and begin its High Availability failover process. However, the router will still see it's link as active and be completely unaware of the issue. In this situation, the redundant firewall could be listening on a link that the router never failed over to all because the TAP never informed the router that the link to the firewall is down.

Link Failure Propagation solves this issue and prevents the TAP from becoming the point of failure in the network.

With LFP, the down state of an RJ45 interface will be replicated over to the adjacent networking RJ45 port.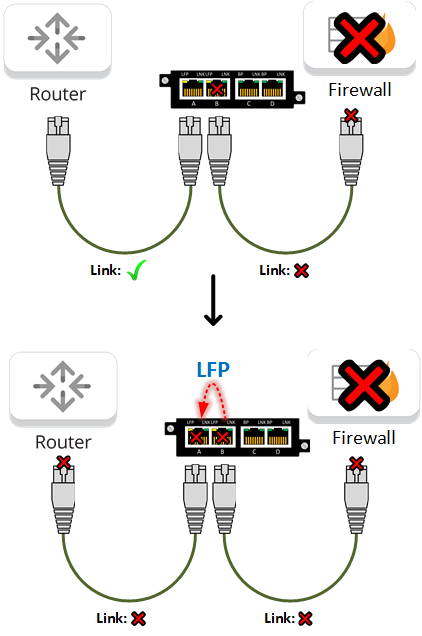 This will turn off both ports, effectively killing the link on both sides of the TAP.




Now, both networking appliances will know of the outage and perform the appropriate High Availability failover functions. Link Failure Propagation ensures the TAP will not be a point of failure in the network, which means you can capture packets in a redundant network without worry.

Looking to add active TAPs to your next deployment, but not sure where to start? Join us for a brief network Design-IT consultation or demo. No obligation - it's what we love to do!