We recently formalized a technology partnership with Savvius, a company I've been working with since early in my career when they were called WildPackets. The Savvius and Garland Technology partnership adds value to companies deploying the Savvius Omnipeek, Spotlight or Omnipliance APM/NPM solutions.

In today's enterprise networks and data centers, IT professionals need visibility and access to the data anytime, from anywhere to perform real-time monitoring and analysis of application and network behavior. As well as the often overlooked scenario - delayed analysis.

Let's dive into the new Savvius and Garland joint solution, case study and learn more about our upcoming webinar.
Scalable Visibility and Anytime Access
With the Garland + Savvius pre-certified deployment solution, enterprise and data center architects are assured the APM/NPM solution they are deploying has:
Full Network Visibility: Leaves no blind spots for network investigation or security planning. Network data is monitored in real-time, and stored for a playback analysis.

Simple to Deploy: Pre-certified solution makes it easy to deploy and manage in any kind of environment.

Easily Scalable: Scales programmatically with virtual machines to millions of flows, multi-gigabit capture-to-disk rates, and multi-terabyte storage capacity.




How it Works: Garland + Savvius:
EdgeLens®, Garland's hybrid bypass TAP with packet broker functionality provides visibility for a hybrid configuration of an active, in-line network device and off-line or "out-of-band" tools, such as Savvius. EdgeLens provides identical network traffic streams through the active in-line device and to the capture engine of Savvius Spotlight or Omnipeek monitoring and analysis applications.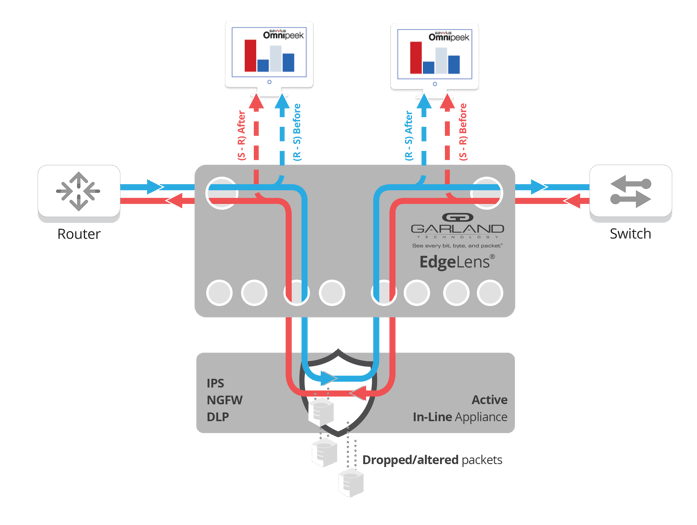 The Benefits of Both Devices Seeing the Same Traffic:
Historical lookback (before/after) and playback of the network traffic

Real-time events correlation for security and forensics

Validating network policy changes and spotting violations

Root cause analysis for application and network related problems
Real World Applications: Ensuring Permissible Packet Capture for Digital Legal Evidence
The Garland + Savvius pre-certified solution was recently deployed to provide real time tracking and analysis of big data to IT Forensics, that included packet captures permissible for legal evidence in criminal trials.
The Garland + Savvius Solution Ensures:
Real time network access using passive network TAPs

Reliable mirroring of the network traffic with network TAPs

Reliable 100% packet capture with network TAPs and Savvius Omnipliance

PTP timestamp with Savvius Omnipliance

Network forensics with Savvius Omnipliance

Capture of evidence with Savvius Omnipliance
Watch our Joint Webinar: Visibility by Design for APM/N

With the spine leaf architecture and increased virtualization in the data center/private cloud, network architects and CIOs are challenged with how to scale the visibility cost effectively. In this webinar, Chris Bihary, CEO of Garland Technology and Nadeem Zahid, Head of Strategy/BusDev at Savvius, will discuss:
The challenges of the changing data center architecture and virtualization
How to balance TAP vs. SPAN
How best to scale with Savvius+Garland solution within your budget
Watch the recorded webinar on our Savvius Technology partner page.