Computer networking terminology can become overly fickle once vendor products get into the mix. To help alleviate some confusion, we're going to go over some common terms that often throw customers for a loop and hopefully clear up some misunderstandings about our Network TAPs.
"Bypass" vs "Failsafe"
We often see the term "Bypass" used to define the TAP's ability keep the network link up and running if the Network TAP stops working. Now, the rationale behind this understanding of the term makes sense: If the TAP goes down, the network link bypasses the TAP, causing the TAP to Fail Open and the network to continue functioning. At Garland Technology, we take what causes the need to fail open into context and provided a fitting name: Failsafe.

If a Network TAP ever needs to fail open, it's because the TAP experienced a significant failure. If the situation arises where a TAP fails, we want to make sure that the TAP does so as gracefully and safely as possible. Hence, "Failsafe".

Garland Technology also makes an Inline Network TAP called the "Bypass TAP."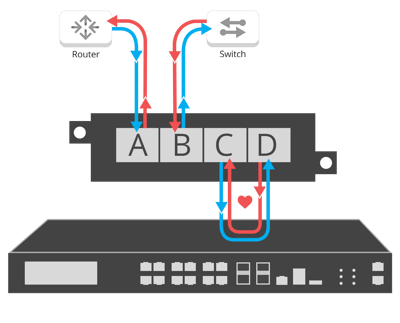 This type of TAP sits on a network link just like a normal TAP, but instead of sending copies of traffic to an out-of-band tool, it redirects the production traffic over to an appliance that is physically placed out-of-band, logically bringing it in line with the production network.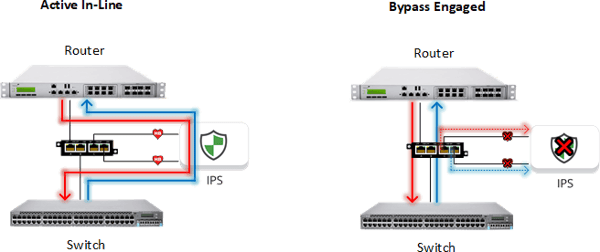 The Bypass TAP provides additional functionality: the redirected traffic has heartbeats added to it, allowing the Bypass TAP to be aware of the health of the inline appliance. If the inline tool fails or becomes unresponsive for any reason, the Bypass TAP Bypasses the failed tool by allowing the production network traffic to flow through the TAP without being redirected toward the now unresponsive appliance. This process effectively removes points of failures from the production network, increasing network resiliency.

If something causes the Bypass TAP to fail, it will still Failsafe, keeping the network up and running.

While all our TAPs have failsafe, only the Bypass TAP will bypass failed inline tools. Garland Technology focuses on network uptime, ensuring that if a failure should occur, it will have the least amount of impact to the production network as possible. When looking to add inline tools or visibility to your network, being aware of terminology like this is an important step in making sure you're network monitoring solution is the correct one.

[Want to learn more about the role of Bypass and Failsafe? Download Garland Technology's whitepaper: Network Uptime, Why Failsafe and Bypass Technology play a critical role in security deployments today]