It's here. An SDN, End-to-End Visibility Solution. It has everything, that everyone's talked about for SDN deployments: it's flexible, scalable and cost effective.

Why is the time for SDN now? Because 5G networks are coming, and they are being driven by consumer demand for everything viral. Streaming, downloading and sharing videos is a way of life, being connected is not a convenience, but an expectation of consumers - regardless of whether they are traveling on a plane or subway, staying in a hotel or AirBnB, on lunch break at work or at a coffee shop.

With increased bandwidth demands and more complex applications the deployment of SDN solutions is now. We are proud to be part of a turnkey solution that guarantees visibility, is easy-to-deploy, and is cost effective.

I've been a long time advocate of software defined networking. It truly is the only way we are going to keep pace with emerging technologies. Video is the largest driver in this demand, now comprising more than 50% of our mobile data traffic. Last year, video traffic grew over 75% from smartphone traffic, according to a recent blog from Marachel Knight, senior vice president, wireless network architecture and design at AT&T.
How will 5G Propel SDN Deployments?
5G differs greatly from 3G or 4G - It combines cloud infrastructure, a virtualized network core, intelligent edge services, and a distributed computing model that derives insights from the data generated by billions of devices. According to Asha Keddy, Vice President in the Platform Engineering Group and General Manager of Next Generation and Standards at Intel, "5G is much more than a G. It is much more transformative. With 5G, we will be moving from a user centric world to one of massive machine type communications where the network will move from enabling millions to billions of devices—an era that will connect these devices intelligently and usher in the commodification of information and intelligence."

The infrastructure of yesterday won't be enough for the demand that 5G will bring. And what about the innovations we can't imagine yet that will come from the new technology? Part of the deliverability of 5G is reducing latency from the current 50 to 80 milliseconds to just a few milliseconds - improving the user experience and making intelligent networks possible.

The future is a combination of SDN and hardware solutions. The key to designing an End-to-End SDN Solution is to find the network fabric, bare metal switches, and network test access point solution providers that will work and scale to your future needs, without adding additional, unforeseen costs down the road.

Creating End-to-End SDN Visibility

SDN solutions need reliable data to ensure 100 percent visibility to both the control plane and the data plane. When architecting, start your SDN foundation with passive fiber optical TAPs to ensure all the data feeds the SDN solution.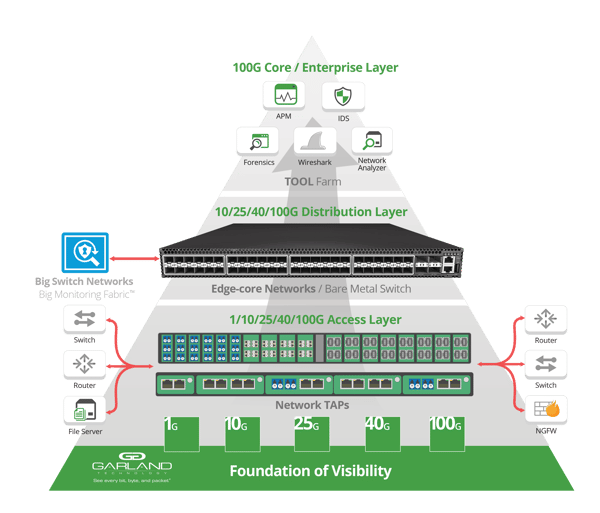 Meet our partners that complete this solution:
Edge-core Networks and Big Switch Networks

Big Switch Networks packages technology components into fabric solutions, bringing Software Defined Networks (SDN) advanced feature sets at competitive price points. When packaging Edgecore Open Networking Switches into Open SDN Fabric Solutions, customers are now transforming the way production networks are deployed, operated and maintained.

For years, hyperscale data center operators have been enjoying the benefits of open networking: automated and accelerated provisioning of network capacity and services, greater control over the development of enhanced network services, flexibility to work with best-in-class suppliers, reduced network equipment expenses, and reduced operating expenses. Through partnerships such as this, open network solutions with Big Switch Networks, Edge-core Networks and Garland Technology have been deployed globally for 10G, 25G, 40G and 100G SDN data centers.

Looking to add SDN solution to your deployment, but not sure where to start? Join us for a brief network Design-IT consultation or demo. No obligation - it's what we love to do!