While we keep hearing about network migrating to 40G or 100G, it's important to note that many networks still consist of 1 Gigabit copper network links, and will require network traffic visibility. Copper Network Taps are the best way to see traffic going over the network as they will neither affect production traffic nor become a point of failure in the network.

When tapping gigabit copper links, it's important to know the network utilization in both directions of the link. If the speeds are less than 500 Mbps in each direction, then an Aggregation TAP can be used to produce a single monitor link per tapped network link. However, if the combined network speed of each direction of traffic is greater than 1 Gbps, then a Breakout TAP will be needed to ensure the monitor ports are not oversubscribed.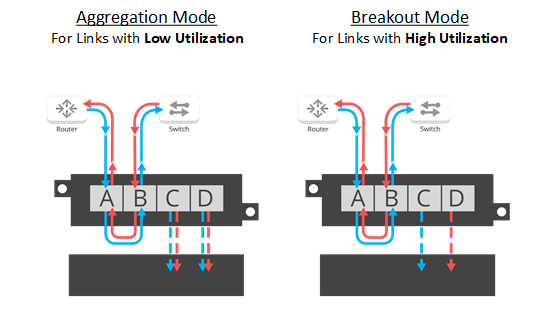 Breakout TAPs will provide 100% full packet capture at the cost of requiring an additional monitor link: two monitor links are generated per tapped network link.
If multiple copper network links are tapped, many monitor links could potentially be generated. At this point, there are two options on how to handle the monitor links: connect each monitor link directly into the network tool or send the monitor links into an Aggregation appliance that can reduce the number of connections needed to get the data to the tool.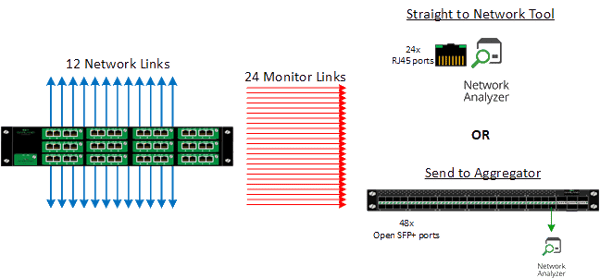 If the network tool you are using has a massive amount of ports to support each monitor link, then you're golden. Unfortunately, most network tools do not have many ports available. If you're using a tool with a limited number of ports, then an Advanced Aggregator can help accommodate your needs by reducing the amount of monitor links to a number that is more manageable for the network tool.

There are many options for aggregation appliances and the needs of your network should be taken into consideration when making your choice. Aggregation appliances often come with 10Gb open SFP+ ports to provide modularity for 1 to 10Gb connections of either copper or fiber. The hardware to support 10Gbps of throughput costs more than hardware that supports only 1Gbps. If you have only a 1Gb copper network, the 10Gb ports will be about 1/10th utilized. In addition, the appropriate transceivers will need to be purchased for each monitor link.

While the larger appliance can provide immense room for growth, if the network requirements do not intend to change drastically, an Advanced Aggregator that is better suited to the network needs can be considerably more cost effective.

The AA1G52AC 1 Gigabit Advanced Aggregator is tailored toward copper networks. The AA1G52AC has built-in 1G RJ45 copper ports, allowing copper monitor links to be directly terminated into the Aggregator without the need of an additional transceiver. The four additional 10G open SFP+ cages on the AA1G52AC provide the means to aggregate multiple 1G ports together into a single monitor link that can be sent to a network tool.



The AA1G52AC provides another element of consideration when designing an efficient and effective network visibility fabric.

[Interested in learning more about how a 1G Advanced Aggregator works in your network? Work with our network design team today!]