High density networks can create infrastructure challenges related to figuring out how to ensure all network links are being analyzed by security and monitoring tools. This was the case with one major European telecommunications company. They were looking to capture traffic from 60 10G links to forward to their Forescout boxes for analysis.


The main problem they were running into was that when you TAP a single network link with a passive fiber TAP, you need two monitoring ports on the tool you're sending the traffic to in order to copy the transmit and receive streams of traffic. So with the 60 links being tapped, the customer was left with needing 120 monitoring ports on their Forescout boxes in order to ensure each link is being properly analyzed. That was a huge problem, as they only had two Forescout boxes, each with four 10G ports. The customer had two options, either purchase dozens of Forescout boxes which would add to the infrastructure challenges, or use aggregation as a means to reduce those 120 links down to a manageable number for the boxes.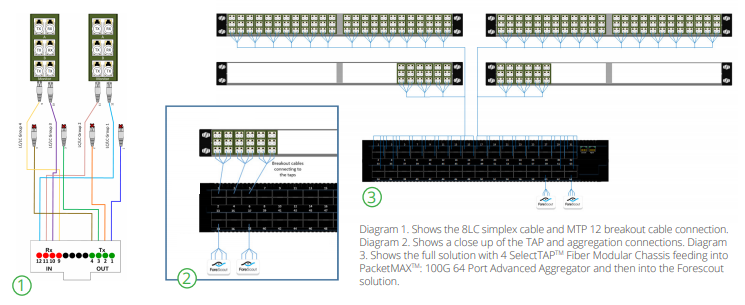 This is where they turned to Garland Technology. Our partner in Spain knew that our PacketMAX™: Advanced Aggregators are a powerful, yet cost-effective solution for aggregation and load balancing at higher network speeds. Building on these pain points, the Design-IT team at Garland put together a solution that not only solved the needs of the customer today, but provided some flexibility for future growth.



Using four of Garland Technology's SelecTAP™: Fiber Modular Chassis, 60 passive fiber TAPs were added to TAP the 60 links the customer wanted to monitor. The resulting 120 links of tapped traffic feed into a PacketMAX 100G 64 port Advanced Aggregator. With the Advanced Aggregator being a 100G box, in order to get a 10G connection, multi-mode 40G QSFP+ were used that are then connected to a MTP12 breakout cable with an 8LC simplex cable on the other end, allowing full-duplex connections into the two Forescout boxes. Breakout cables simplify the cabling needed for this solution, since only one cable is needed to connect 4 10G connections to the Advanced Aggregator.


Flexible and Scalable Design
Another pain point this solution solved for the customer was the knowledge that their network would be growing over the next couple of years and they were looking for a design that would grow with them, rather than have to start from scratch. By using the SelectTAP, the customer got a high density solution, that still provides the option to tap 36 additional links as their network needs grow over time.

Additionally, there are also open ports on the Advanced Aggregator. Today the customer is only using 32 of the 64 ports, so the customer can either bring in 128 additional monitoring ports as their network grows, or they can add additional 100G monitoring tools down the road.

It's a cost-effective aggregation, load balancing, and filtering solution, capable of monitoring 192 10G ports in only a 6U footprint, built from scalable and modular products for future growth.


Looking to add an aggregation solutions to your next deployment, but not sure where to start? Join us for a brief network Design-IT consultation or demo. No obligation - it's what we love to do!