The network TAP is essential for network visibility within the data center, ensuring your network monitoring and security tools are getting 100% complete packet data. With the fourth of July among us, I thought it was a good time to share my recipe for Garland Technology's success and commitment to quality. The secret ingredient – US-based innovation and manufacturing.
Made in the USA: Our Commitment to Total Quality
In the words of great American prophet Bruce Springsteen, Garland Technology was "born in the USA." As a successful American company with solutions deployed worldwide, we take pride in ensuring our manufacturing, testing, and performance of each Garland TAP exceeds customer expectations.

Within our Texas manufacturing facility, we ensure our unique testing and acceptance phase passes all quality checks. Since we don't believe sample testing provides an adequate level of oversight, we test every single network TAP with live network traffic before shipping to the client. With research and development, customization, assembly, testing, and fulfillment all conducted in house, we are stand behind our meticulous high caliber products. And when clients have questions at installation, our US-based technical support team is available for immediate assistance.



We also work with local partners who are equally committed to quality to do some preliminary circuit board work, as well as sourcing quality made USA sub-assemblies.
"Our standards have paid off in the end. We recently delivered 7,000 network TAPs to a client in South America – not one was sent back for failure to perform. From a corporate perspective, our overall return rate is less than 0.5% and our first-time pass rate (FTPR) is 0%."
Developing the Bypass TAP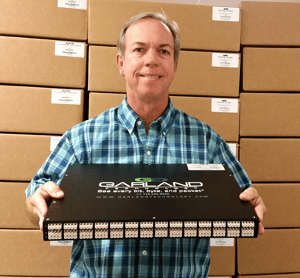 My early commitment to quality stems from working at General Dynamics and Lockheed in the early '90s designing military-grade solutions. In these cases, technology failure was not an option, since failure literally meant the difference between life and death.

With security and uptime as my priority, I later moved into the corporate world in a network engineering role, when intrusion prevention systems (IPS) solutions and other inline appliances were just starting to hit the market.

These mission-critical functions helped to secure networks, but a failure of the inline appliance would immediately cause a complete shutdown of the client's network. This shut down would cost the client thousands of dollars per minute.

With this purpose in mind, I set out to solve this challenge and the network bypass TAP was born.
Knowing the loss of time and money was unacceptable, I designed the

network bypass TAP

. This solution continuously checked the health of the device and ensured the integrity of traffic flows regardless of their condition.
Garland Technology's Story
In 2001, manufacturing network TAPs became my sole focus. Over a decade later I teamed up with one of the most respected, passionate industry veterans I knew, Chris Bihary, and in 2011 we co-founded Garland Technology. Over the years we have proven that Garland's products and technology are the best in the industry. They are tested every day at more than 3,000 customers worldwide; across demanding networks at enterprises, government agencies, and institutions in.
"What's unique about our process comes at the testing and acceptance phase," says Dillard. "Every single network TAP is tested with live network traffic and validated before it is shipped to a client – we don't believe sample testing provides an adequate level of oversight."
The Visibility Future is Bright
As TAP and packet broker technology continues to change, Garland Technology is keeping pace. We are committed to ongoing TAP research and development. You will continue to see see our commitment to innovation, as new products emerge, including our sought after Edgelens® Focus and Garland Prisms cloud solution. We are not only growing in product count but are also in bodies, increasing employee count by 20% to facilitate our commitment to providing quality customer service and product excellence.

While my original goal was to ensure network uptime in the event that a security or monitoring appliance failed, the corporate mission has evolved to also ensure that each and every connected device has 100% visibility to see every bit, byte and packet®.

Looking to add a visibility solution to your next deployment, but not sure where to start? Join us for a brief network Design-IT consultation or demo. No obligation - it's what we love to do!