Designed to redefine how you approach your network, Garland Technology is excited to announce the launch of two new products to our purpose-built packet broker line. These products were specifically created to address critical needs of our customers: high density TAP aggregation and speed conversion, and the need for advanced features such as deduplication.

At Garland Technology we've taken the approach to deconstructing the network packet broker. With significant investment in security and monitoring tools, we recognize the need for a flexible, scalable, cost effective solution that is compatible with your network today and in the future.


PacketMAXTM: Advanced Features
We developed the Advanced Features devices as a hardware supplement to provide advanced features for both inline and out-of-band applications. The system supports deep window deduplication, NTP time stamping, and configurable packet slicing, which extends the feature set of any product. The Advanced Features systems aims at reducing the overall volume of traffic sent to security and monitoring tools, which decreases the possibility of oversubscription.
Deduplication: Network visibility fabrics are sensitive to duplicate packets, which can negatively impact application and performance monitoring tools from performing their core function. Monitoring networks can see up to 55% duplicate traffic, which reduces packet capture time from 24 hours to 12 hours. Additionally, all tools need CPU and memory resources, which are wasted by duplicate traffic, overloading the tool, and halting analysis.

Packet Slicing: With the removal of the payload of the packet, the unnecessary strain in NPM applications is eliminated.

Time Stamping: Timestamping packets when they enter the visibility fabric is a common requirement for security and performance monitoring applications.
The Advanced Features system can be added to any existing infrastructure or new install, increasing pre-tool bandwidth reduction. This system is made for flexibility; a scalable packet processing system that adds value when and where needed.




Diagram 1: Deduplication


PacketMAXTM: 100G 64 Port Advanced Aggregator
Garland's Advanced Aggregators improve ROI by reducing the total cost of a network visibility fabric and increasing the efficiency of existing infrastructure. The 100G 64 port Advanced Aggregator is a purpose built network aggregator, designed to be used at the network edge or in top-of-rack applications where port utilization tends to be low.

The system provides high density TAP aggregation and speed conversion, with up to 256 10G interfaces that can be managed on a single platform, reducing the need for central management and multiple systems.

Garland's Advanced Aggregators are also capable of pre-filtering traffic prior to sending out to NPBs for advanced filtering, or taking the place of packet brokers in applications where only L2-L4 filtering is required.

Garland Technology's best-in-class Network TAP and purpose built Packet Broker solutions provide an innovative, industry leading 360° view for modern visibility fabrics. Our unique adaptability makes it easy to deploy what you need, when you need it, and by adding value to existing infrastructure.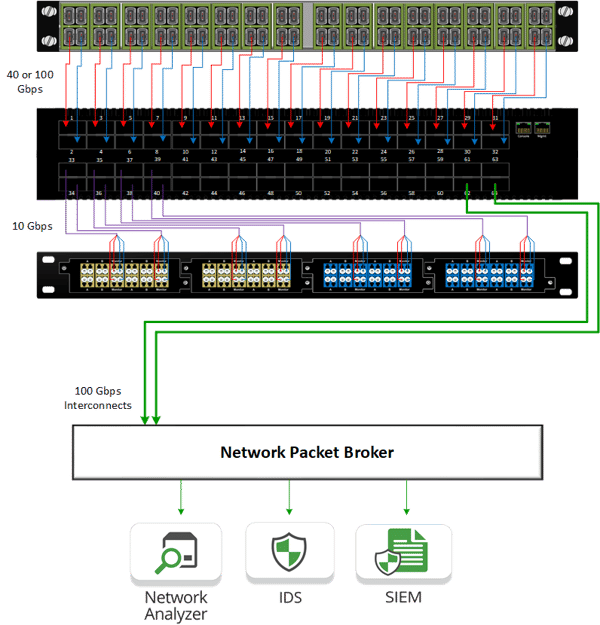 Diagram 2: High Density TAP Aggregation

[Want to learn more? Schedule a quick demo of the PacketMAX: 10G Advanced Features or PacketMAX: 100G 64 Port Advanced Aggregator today.]